We have extensive experience in educating doctoral students (since 1968). At present, IPPT PAN has a choice of two Doctoral Schools:
IPPT PAN Doctoral School
TIB PAN Doctoral School
RECRUITMENT RULES: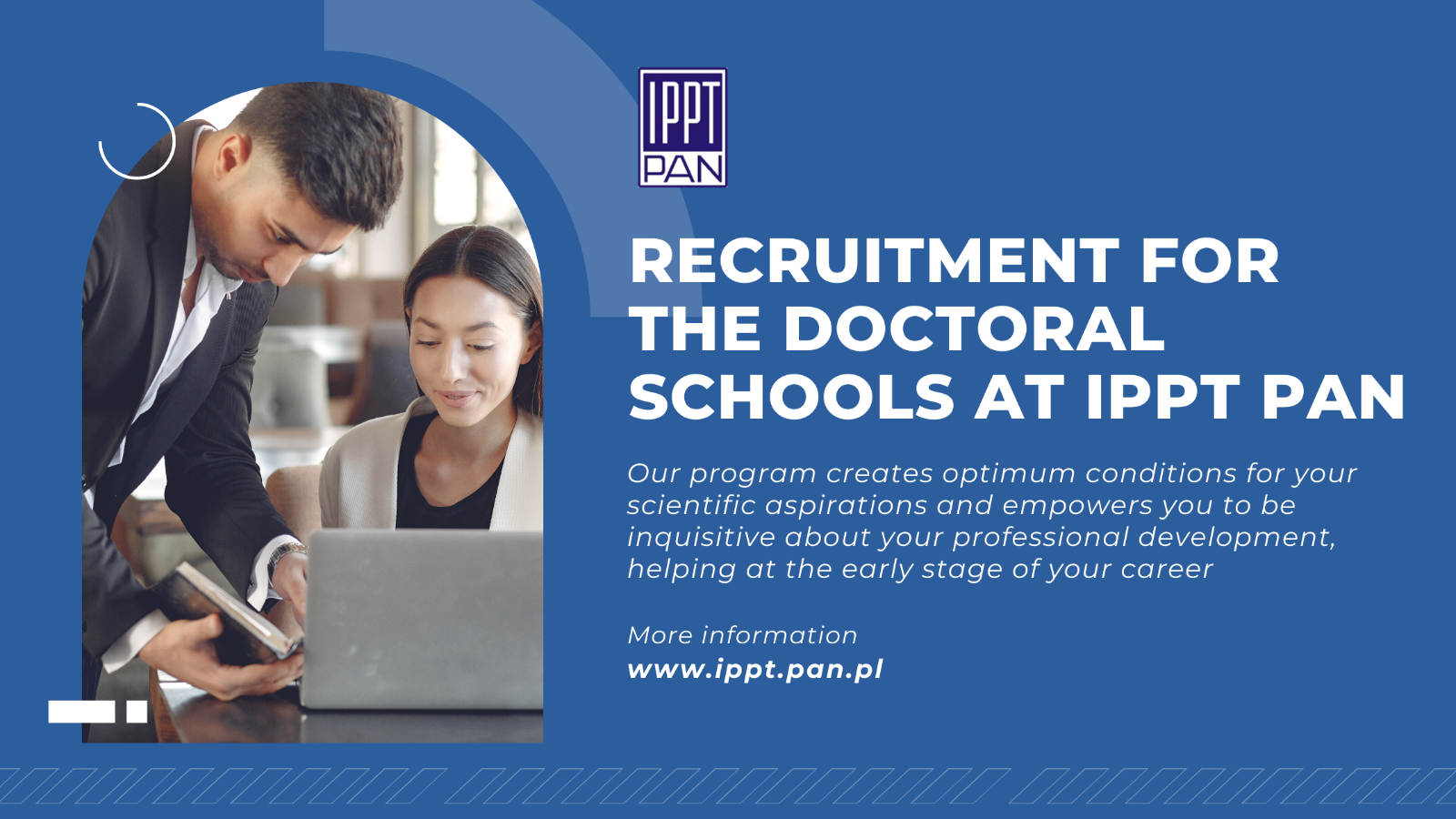 Doctoral School of IPPT PAN
The IPPT PAN Doctoral School is a new form of doctoral education operating in accordance with the provisions of Art. 198 (1) of the Act of 20 July 2018 on the Law on Higher Education and Science. The principles of the IPPT PAN Doctoral School are also defined by the Regulations, Recruitment Principles and the Program of the Doctoral School of IPPT PAN adopted on March 28, 2019. The main scientific disciplines that provide education are Mechanical Engineering and Materials Engineering.
The IPPT PAN Doctoral School started its research and teaching activities on October 1, 2019. All important information about the principles of studying at the IPPT PAN Doctoral School can be found in the abovementioned legal acts.
IPPT PAN research is divided into eight independent scientific units. For detailed information on their activities, follow the departments websites:
Doctoral School of TIB PAN
Parallel to the Doctoral School, the Institute also runs another doctoral school in cooperation with six research institutes of the Polish Academy of Sciences.
Due to the fact that the school provides education in the following disciplines: information technology and telecommunications, biomedical engineering and medical sciences, the official name has been abbreviated to: The Doctoral School of Information and Biomedical Technologies (TIB), Polish Academy of Sciences. To learn more about the principles of functioning of the TIB Doctoral School, its legal acts and all relevant information, follow "this link".
To apply, students need to have completed Master's degree, demonstrate distinctive interest in science and have high motivation for scientific work.
Currently, the Institute is eligible to confer doctoral and postdoctoral degrees in technical sciences in the following disciplines:
Mechanical engineering
Information technologies and telecommunications
Material engineering
Automation, electronics and electrical engineering
Biomedical engineeringdyczna