News:
IPPT PAN offers support to PhD Students from Ukraine to continue their studies!
As IPPT PAN has become a beneficiary of the NAWA "Solidarni z Ukrainą" programme, it is possible to enable continuation of doctoral studies by young researchers from Ukraine who were students of post-graduate studies ("aspirants") in their country in the academic year 2021/22 and came to Poland after February 24, 2022. Within this programme, we will provide conditions for research work, a tutor, a monthly scholarship of PLN 1,500 (net) as well as psychological and legal assistance and the opportunity to learn Polish. Interested persons from Ukraine who can prove to meet the above-mentioned criteria are welcome to report to the Secretariat of the Doctoral School of IPPT PAN, room 524 (5th floor).
General information:
Training of PhD students at IPPT PAN
Institute of Fundamental Technological Research launched the training of PhD students in 1968 as one of the first institutes of the Polish Academy of Sciences. Using the potential of highly qualified academic staff, the Institute has since been playing an important role in specialized third-level education, inviting graduates with a strong motivation for scientific work, determined to make several years of sacrifices to achieve their ambitious scientific goals.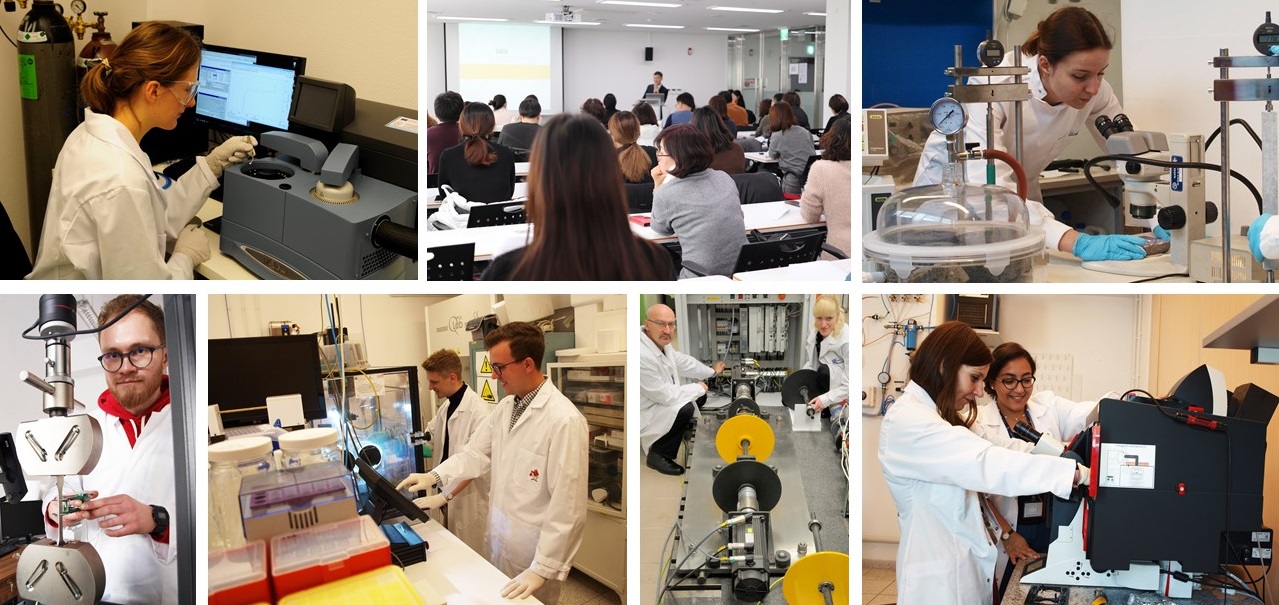 As one of the largest institutes of technical sciences of the Polish Academy of Sciences, IPPT offers a very wide range of specialties with a fundamental science profile in the field of various technologies. IPPT is a member of the Ochota Biocentre Consortium. This has created new development prospects resulting from the synergy of technology, medicine and experimental biology, combined to use the research and development potential of the institutes located in the Ochota Campus in Warsaw.
Currently, the Institute is eligible to confer doctoral degree in technical sciences in the following disciplines:
Mechanical engineering
Information technologies and telecommunications
Material engineering
Automation, electronics and electrical engineering
Biomedical engineering
We offer modern research equipment and cooperation with renowned scientific centers both in Poland and abroad. We offer internships as well as participation in European projects run by the Institute. PhD students receive attractive scholarships and they can take part in free language courses at various levels. Lack of didactic obligation allows them to devote all their time to research and education.
In the present formal and legal reality, IPPT PAN conducts three forms of doctoral education:
Doctoral School of IPPT PAN
The IPPT PAN Doctoral School is a new form of doctoral education operating in accordance with the provisions of Art. 198 (1) of the Act of 20 July 2018 on the Law on Higher Education and Science. The principles of the IPPT PAN Doctoral School are also defined by the Regulations, Recruitment Principles and the Program of the Doctoral School of IPPT PAN adopted on March 28, 2019. The main scientific disciplines that provide education are Mechanical Engineering and Materials Engineering.
The IPPT PAN Doctoral School started its research and teaching activities on October 1, 2019. All important information about the principles of studying at the IPPT PAN Doctoral School can be found in the abovementioned legal acts.
"TIB" Doctoral School of Institutes of the Polish Academy of Sciences
Parallel to the Doctoral School, the Institute also runs another doctoral school in cooperation with six research institutes of the Polish Academy of Sciences. Due to the fact that the school provides education in the following disciplines: information technology and telecommunications, biomedical engineering and medical sciences, the official name has been abbreviated to: The Doctoral School of Information and Biomedical Technologies (TIB), Polish Academy of Sciences. To learn more about the principles of functioning of the TIB Doctoral School, its legal acts and all relevant information, follow this link.
Doctoral studies
Please be informed that, as of October 1, 2019, all doctoral studies offering doctoral education will be transformed into doctoral schools. According to the introductory provisions of Art. 279, (1) of the Act of July 3, 2018 on The Law on Higher Education and Science, doctoral studies commenced prior to academic year 2019/2020 will still be carried out, however, no longer than until December 31, 2023. Therefore, the legal basis for the functioning of doctoral studies at IPPT PAN is formally repealed, but studies are still being carried out under the following acts of law: "Law on Higher Education" of July 25, 2005, as amended, and the corresponding regulations of the Ministry of Science and Higher Education and the Regulations of Doctoral Studies of the IPPT PAN in force from November 30, 2017, and Financial assistance regulations for PhD students from July 16, 2013.
Doctoral procedures initiated before April 30, 2019 are to be implemented in accordance with the previous regulations. They must be finished until December 31, 2021. The analogous procedures regarding the award of the doctoral degree launched after this date (April 30, 2019) will be implemented in accordance with the new regulations.
Also, in cooperation with IBIB PAN and IMDiK PAN, IPPT PAN offers interdisciplinary doctoral research under the name of: "Development and use of bioengineering and IT methods in the prevention, diagnosis and therapy of civilization diseases - comprehensive development of professional competence of young scientific staff", abbreviated to "Och!DOK". Detailed information about this project can be found here. link.
Moreover, meeting the Polish economy's demand for scientific and technical innovations, IPPT PAN has become the beneficiary of the Ministry of Sciences and Higher Education program entitled "Implementation Doctorate". In this program, the Institute educates doctoral students working full-time in various types of companies and enterprises, with the purpose of implementing their doctoral dissertation results directly into these businesses.