On 21 September 2020, 24. Science Festival started at IPPT PAN. Every year, the Festival offers a series of meetings and workshops, during which researchers present new developments of the science world to a wide range of audiences. This year, decision to organize the event was difficult due to the ongoing pandemic, but the very idea of organizing this year's Festival was so popular that our employees decided not to fall short of the Varsovians' expectations.
IPPT PAN has been engaged in creating the Festival ever since its beginnings and has put much attention to helping other major scientific initiatives promote science.
This year, we prepared many lectures and meetings, including:
live online events – events for schools to attend online in real time,
online events – recorded events provided by clicking on a link,
traditional events – events requiring on-site presence (at IPPT PAN headquarters or in visited institutions).
It was our first time to organize school lessons online. The photograph below shows a popular science lesson conducted by Dr Marcin Lewandowski, titled "Magic ultrasounds – what we can see that can't be seen with the naked eye".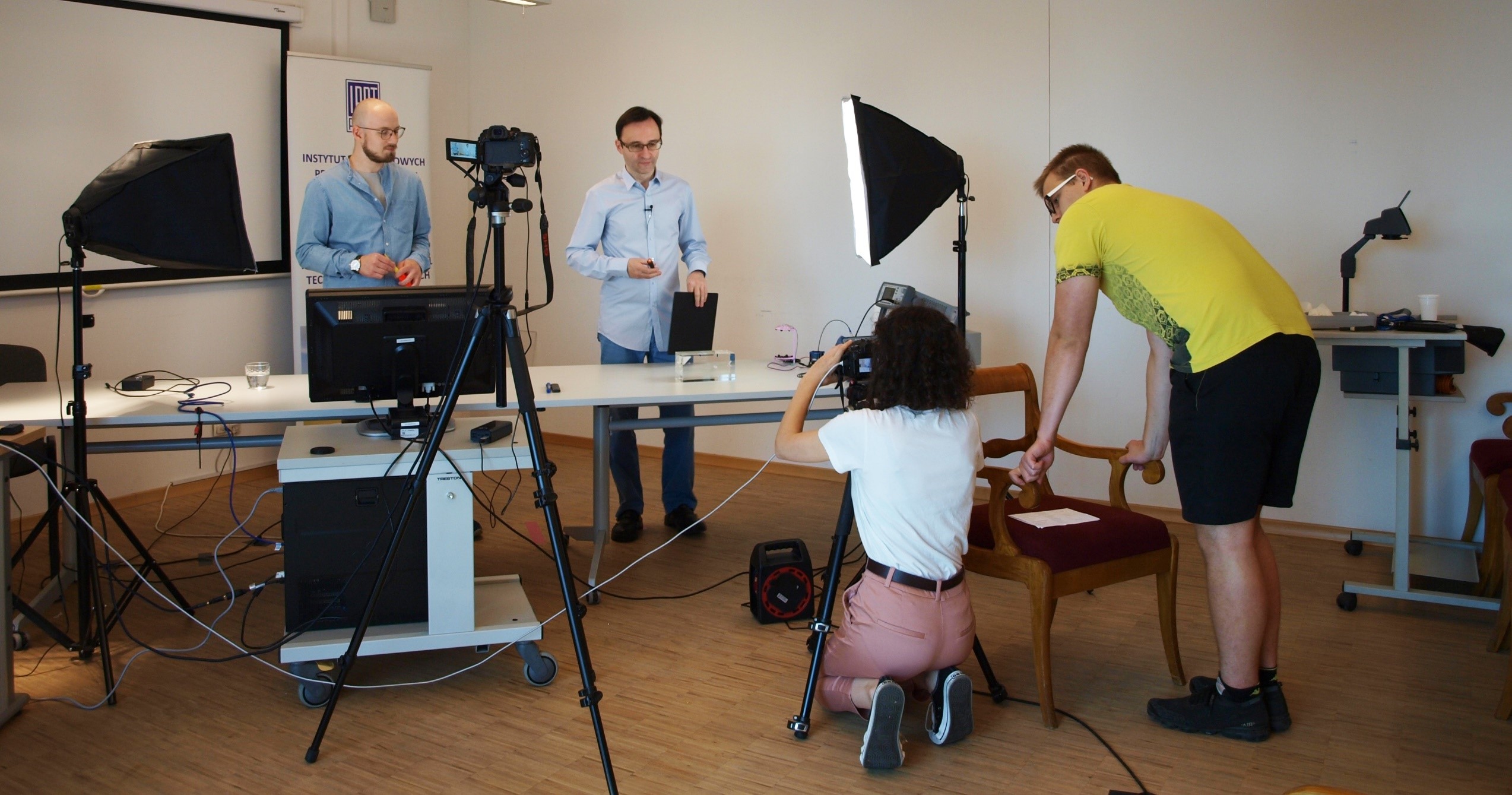 IPPT PAN 2020 FESTIVAL PROGRAMME
CLUB MEETING
Tissue regeneration with cell-scaffolds, by Dorota Kołbuk-Konieczny (PhD), Angelika Zaszczyńska (MSc), Beata Niemczyk-Soczyńska (MSc), Oliwia Jeznach (MSc)
FESTIVAL LESSONS
Lessons were mainly prepared for students of registered schools. Classes were generally addressed to high school students planning to study technology and engineering, as well as to those who were interested to develop their information science knowledge and mathematical skills. Nevertheless, younger students, if interested, were also welcome to attend the meetings.
Fibers that form lives, Tomasz Kowalczyk (PhD, DSc)
Elements of general relativity theory, prof. Wiera Oliferuk (PhD, DSc)
Porous nature – from nanopores to bones and concrete, Przemysław Ranachowski (PhD, DSc), Ryszard Wojnar (PhD, DSc)
Magical ultrasounds, Marcin Lewandowski (PhD)
Can technology be intelligent? Andrzej Świercz (PhD), Rafał Wiszowaty (PhD), Paula Broniszewska (MSc), Dominik Pisarski (PhD, DSc), Błażej Popławski (MSc)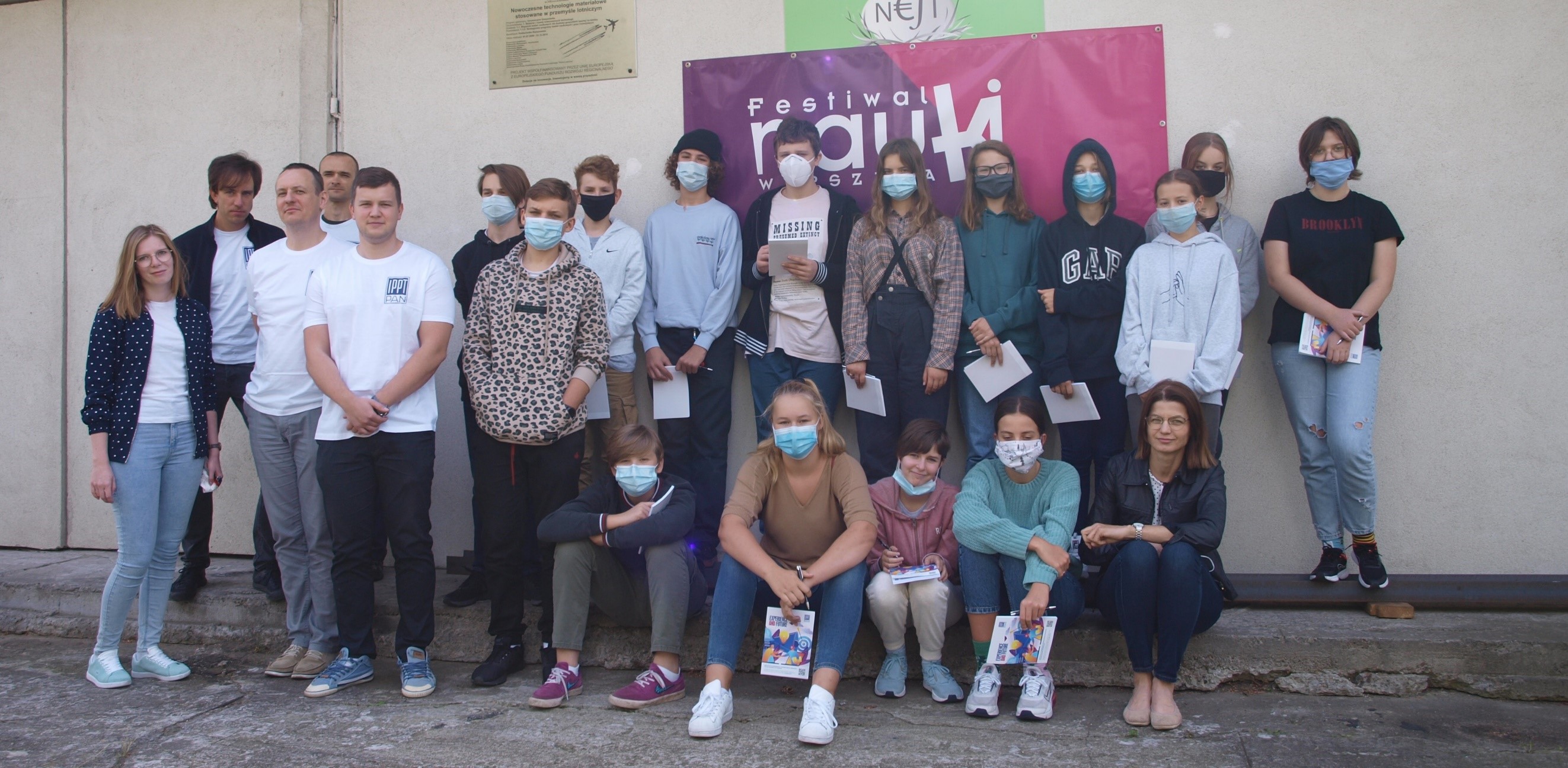 EXHIBITION
The Warsaw programme also includes exhibitions. As part of the cooperation with other centers, IPPT PAN organized a sculpture exhibition titled "Świat techniki i mój prywatny gabinet osobowości" (World of technology and my private curio cabinet) by Bartłomiej Sęczawa, which is displayed in the Institute's hall. The sculptor uses elements of metal and iron to create fantastic creatures and forms, resulting in a postmodernist original cabinet of curiosities. Bartłomiej Sęczawa graduated from the Gdansk Academy of Fine Arts, Faculty of Sculpture and Intermedia (1995-2000). He received diploma at Prof. Sławoj Ostrowski's atelier, annex – at Prof. Henryk Lula's atelier of ceramics. Since 2000, he has been Member of the Związek Polskich Artystów Plastyków Okręgu Lubelskiego (Association of Polish Artists and Designers, Regional Chapter in Lublin). The IPPT PAN exhibition is open to public.
For more information, contact: This email address is being protected from spambots. You need JavaScript enabled to view it. (available until 15th November).