On behalf of all TIP PAN Doctoral School consortium partners, prof. Tadeusz Burczyński, director of IPPT PAN, has signed a letter of intent with the IDEAS NCBR company. IDEAS NCBR Sp. z o.o. is a research and development center working on AI and the digital economy, whose mission is to support the development of these technologies in Poland by building a platform connecting academic milieus with businesses.

According to the letter of intent, the cooperation aims to shortlist joint candidates for the TIB PAN Doctoral School (www.tib.ippt.pan.pl), which educates in AI and information technologies for the digital economy. Thanks to the joint effort, the newly recruited scientists will be able to simultaneously study at the TIB PAN Doctoral School and conduct research at IDEAS NCBR.
As AI is attracting more and more interest, it is only natural to consolidate the work of scientists with educating experts in the field so that the work of independent Polish research centers can be mutually beneficial to all partners, and foster their research application in business. That is why integration is imperative to us, as well as the gradual increase in cross-universities cooperation – dr hab. Piotr Sankowski, prof. at UW, President of IDEAS NCBR explains.
TIB PAN – the Doctoral School of Information and Biomedical Technologies of the Polish Academy of Sciences was established in 2019, following the integration of seven research centers, including six institutes of the Polish Academy of Sciences and the National Science Institute.
TIB PAN is coordinated by the Institute of Fundamental Research, Polish Academy of Sciences. The School conducts interdisciplinary research in preparation for the Doctor of Science degree in the fields of:
technical informatics and telecommunication
biomedical engineering
medical science
covering, among other subjects: artificial intelligence, cybersecurity, computational biology and medicine.
TIB PAN has been created out of:
Systems Research Institute, Polish Academy of Sciences (PAS)
Nalecz Institute of Biocybernetics and Biomedical Engineering, PAS
Institute of Theoretical and Applied Informatics, PAS
Mossakowski Medical Research Institute, PAS
Institute of Computer Science, PAS
Institute of Fundamental Technological Research, PAS (consortium leader)
and
Naukowa i Akademicka Sieć Komputerowa – National Research Centre, NASK
IDEAS NCBR Sp. z o.o. has been set up by the National Center for Research and Development and is part of the NCBR Group. Its mission is to build the largest center in Poland, friendly to conducting innovative research and educating a new generation of scientists focused on the practical application of algorithms and their subsequent commercialization in industry, finance, medicine, and other branches of the economy.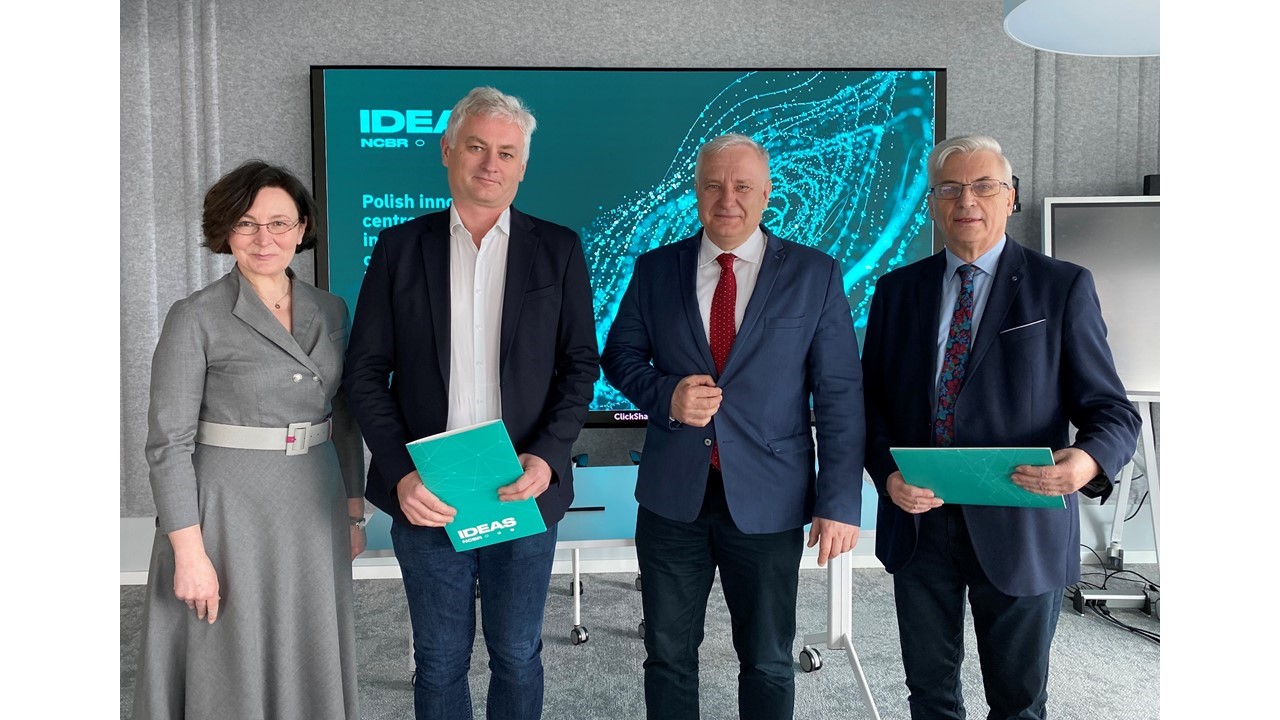 Fot. From left to right: dr Grażyna Żebrowska (IDEAS NCBR), dr hab. Piotr Sankowski - President of IDEAS NCBR, prof. Marek Konarzewski - President of PAS and prof. Tadeusz Burczyński - IPPT PAN.