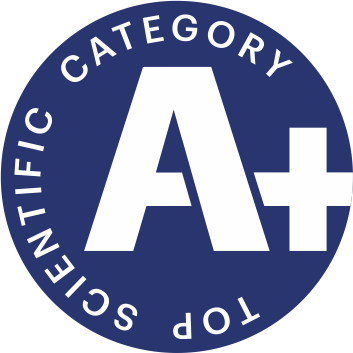 Institute of Fundamental Technological Research Polish Academy of Sciences
was awarded
THE HIGHEST SCIENTIFIC CATEGORY, A+
extended again onto another four years
2017 - 2021
On 16th October 2017, the Ministry of Science and Higher Education announced the results of the evaluation of scientific units, carried out in Poland by KEJN Komitet Ewaluacji Jednostek Naukowych (Committee of Scientific Units Evaluation). IPPT PAN was awarded the highest category A+, thus maintaining its highest standards of scientific activity.
Comprehensive assessment (commonly known as "parametrization") of scientific units is carried out by KEJN on the basis of surveys submitted by scientific units in Poland. The surveys cover 4 years of research. The KEJN scientific evaluation teams credit units' achievements based on the following criteria:
scientific achievements (particularly publications);
scientific capacity (entitlement to award degrees, scientific development and staff mobility, presiding scientific committees and expert teams, participating in scientific projects etc.);
tangible effects of scientific activity (financial results, practical application of research results);
other effects of scientific activity (major achievements proving the rank of scientific unit).
The scientific units are evaluated based on a specific algorithm as part of common evaluation groups (GWO), corresponding to the main areas of scientific research. Based on the final KEJN evaluation grades, the minister of science and higher education assigns the following scientific categories:
A+ (lead level);
A (very good);
B (satisfactory with recommendation of improvement);
C (unsatisfactory).
The prestigious A+ category is given to few units among those who meet the requirements of category A as part of a common evaluation group and are distinguished by a particularly high level of scientific research. The units are selected on the basis of a separate expert assessment.
The assignment of the highest scientific category certifies the rank of a scientific unit and puts it in the position of a leader who can undertake initiatives in creating consortia able to apply for substantial funding for the most ambitious of research.