IPPT PAN takes great pride in a long-standing cooperation with most of the European countries. Ever since the beginning of our existence, the Institute has committed itself to the cooperation of single and international European science and research centres. IPPT PAN organized and carried out dozens of international projects, conferences and scientific exchange. Moreover, IPPT PAN professors fulfilled duties resulting from various memberships of the most important European scientific societies and organizations. As a result, after 1999, our professors contributed to the creation of many centers of excellence, which greatly facilitated joint scientific activities in several laboratories around Europe. These centers of excellence included: LAPROMAT Centre of Excellence for Laser Processing and Material Advanced Testing; AMAS Center of Excellence or KMM-NoE Center of Excellence. The cooperation has been very fruitful and further resulted in the establishment of the European Virtual Institute on Knowledge-based Multifunctional Materials (KMM-VIN AISBL) based in Brussels.
Parallel to the above, IPPT PAN started the operation of the National Contact Point for Research Programmes of the EU (KPK). The KPK's establishment resulted from the fact that our scientists participated in the competition announced by the State Committee for Scientific Research for organizing information and training campaigns on the Polish accession to the 5th EU Framework Programme for Research and Technological Development (1999-2002). Further similar activities were assigned to KPK by the Minister of Science and Higher Education for consecutive framework programmes: 6PR (2002-2006) and 7PR (2007-2013). Currently, IPPT PAN scientists continue expert consulting in various European programmes, and since 2021, KPK operates under the National Centre for Research and Development.
High level of scientific research at IPPT PAN, leadership in numerous international science projects, lectures given for internationally recognized centers, and our extensive organizational experience have all contributed to the fact that IPPT PAN is now one of the most important partners in European science consortia.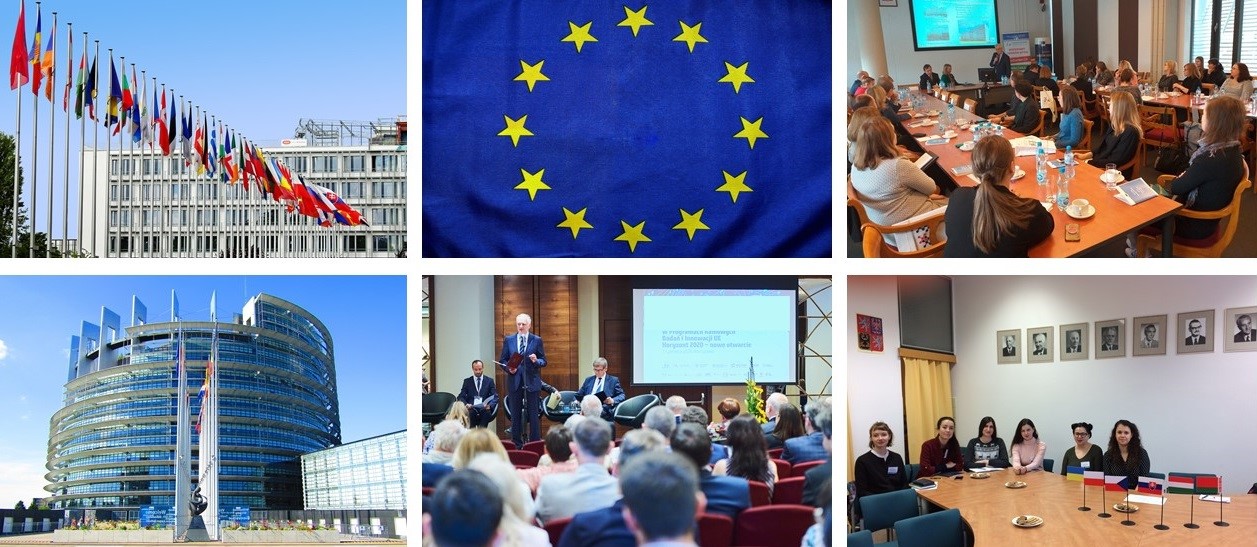 IPPT PAN PROJECTS CO-FINANCED FROM THE EUROPEAN UNION FUNDS
Selected, most important programmes in which IPPT PAN participated:
National Operational Programmes
IPPT PAN has gained extensive experience in carrying out National Operational Programmes, some of which included:

✓ Innovative Economy Operational Programme (POIG)
✓ Innovative Economy Operational Programme (POIG)
✓ Human Capital Operational Programme (POKL)
✓ Digital Poland Operational Programme (POPC)




As part of POIG, our Institute coordinated and was a strategic partner of several of the biggest projects. They were carried out in cooperation with the National Center for Research and Development. Among them, the Institute carried out: KomCerMet - Ceramic-Metal Composites and Nanocomposites for Aerospace and Automotive Industries; Medical Ultrasound Instruments - New Methods of Testing and Visualization of Tissue Structure of Human Organs; CEZAMAT - Center of Research on Advanced Materials and Technologies; PKAERO - Innovative Material Technologies for Aero-Industry; MONIT - Structural Health Monitoring and Evaluation of its Durability; Ochota Biocentre - Infrastructure for the Development of Strategic Directions of Biology and Medicine; CePT - Centre for Preclinical Research and Technology; Innovative Cement Binders and Concretes with Addition of High Calcium Fly Ash; and Database Information Platform for Effective Implementation of Research Results.

In cooperation with the National Information Processing Institute, IPPT PAN carried out: NUMPRESS - Advanced Numerical Methods of Analysis, Optimization and Reliability Assessment for Industrial Metal Forming Processes. In cooperation with The Foundation for Polish Science (FNP), the Institute carried out: Smart Technologies for Safety Engineering - SMART and SAFE project; and Mechanistic Aspects and Spatial Organization of Cell Signalling.

IPPT PAN also participated in POKL programme in: Bionic Sonar, Commercialization of Innovative, Passive Underwater Acoustic Communication System; and Research Technique and a Measuring Device for Viscoelastic Materials Properties in Nano Scale.

In POPC programme, IPPT PAN took part in the project of Digital Repository of Scientific Institutes (DRSI). For more information about the project, visit: www

Regional Operational Programmes
IPPT PAN received funds managed by The Office of the Marshal of the Mazowieckie Voivodeship in Warsaw. These EU grants are managed by voivodeship managements and are allocated for the development of regions. The Energy Conversion and Renewable Resources PAS Research Center in Jabłonna was among the recipients. The Center was initiated by IMP PAS (Institute of Fluid-Flow Machinery PAS) and PAS.

Framework Programmes
Framework Programme funds can be given to co-finance specific areas projects. IPPT PAN has taken part in: 5FP, 6FP, 7FP, Horizon 2020, COSME, Erasmus, Erasmus +, Marie Curie Industry-Academia Partnerships and Pathways (IAPP), "Cooperation" Programme of: Nanoscience, Nanotechnology, Materials and New Manufacturing Technologies, etc.

IPPT PAN participated in FP7 - PEOPLE, Marie Curie Industry-Academia Partnerships and Pathways (IAPP). The cooperation, among others, included: Smart Technologies for Transport Safety - Innovation Cluster Nesting (Smart-Nest) of which more information can be found at: www and www; and Innate Immune Signalling: Optimal Microfluidics Protocols, Prediction and Control, for which more information is available at: www.

IPPT PAN participation in FP6 – NMP COOPERATION: Nanoscience, Nanotechnology, Materials and New Manufacturing Technologies included, among others, the project of: INNVIN - Innovative Materials Solutions for Transport, Energy and Biomedical Sectors by Strengthening Integration and Enhancing Research Dynamics of KMM-VIN.

IPPT PAN participation in Horizon 2020 also included the following projects:

iP-OSTEO – Induced Pluripotent Stem Cell Seeded Active Osteochondral Nanofibrous Scaffolds, carried out as part of the H2020-MSCA-RISE-2018 Marie Skłodowska-Curie Research and Innovation Staff Exchange (MSCA RISE) competition. The project is partnered with: Inocure Sro Czechia; Szechenyi Istvan University Hungary; Ospin Gmbh Germany; Bioneer A/S Denmark; Orthosera Gmbh Austria; University College London United Kingdom; Hochschule Rhein-Waal-Hsrw Rhine-Waal University Of Applied Sciences Germany; Lls Rowiak Laserlabsolutions Gmbh Germany; Corticalis As Norway; Fraunhofer Gesellschaft Zur Foerderung Der Angewandten Forschung E.V. Germany; Biofabics Lda Portugal; Scinus Holding Bv Netherlands And Ustav Experimentalni Mediciny Akademie Ved Ceske Republiky Verejna Vyzkumna Instituce (project coordinator, Czechia). More information available at: www.
Unraveling the Role of Anisotropy in Material Failure, which is carried out as part of H2020-MSCA-RISE-2017 Marie Skłodowska-Curie Research and Innovation Staff Exchange (MSCA RISE) competition. The research is conducted by a consortium of four institutions based and associated in Europe and of four partnered institutions. Apart From IPPT PAN, the project beneficiaries include: Universidad Carlos III De Madrid In Spain; Universite De Lorraine In France; Technion - Israel Institute Of Technology In Israel. The Partnered Institutions Were Four Leading Scientific Institutions From The US: Trustees Of Columbia University In The City Of New York; University of Florida; Texas A&M University System and Battelle Memorial Institute Non Profit Corporation.




IPPT PAN participation in Erasmus and Erasmus+ included, among others, the following projects: "Complex EIT – Complexity from Nanotechnology to Big Systems". Złożoność od nanotechnologii do dużych systemów and Educational Mobility in Higher Education Sector Among Membership Countries.
For the complete list of EU financed and co-financed projects carried out by IPPT PAN, follow: www.
Participation in European Union projects plays a huge part in IPPT PAN, as it supports and fosters tighter cooperation between research teams from various countries and across disciplines in Europe, which, in turn, plays a significant role in maintaining the highest quality of research and helping to achieve scientific breakthroughs. The cooperation also brings an additional advantage of giving IPPT PAN the possibility to disseminate information of the Institute's achievements and innovations with market potential. The European programmes also help scientists find solutions to most urgent social problems such as climate change, eco-friendly transportation, renewable resources energy, or even solve issues related to fighting the pandemic.