Wizyty naukowe gości zagranicznych w IPPT PAN
Ostatnie
Imię i nazwisko
Instytucja macierzysta
Kraj
Okres pobytu
Jednostka przyjmująca
Uwagi
Alexis Rusinek
University of Lorraine, France (FR), Cité Universitaire, 57000 Metz
2020-09-17
2020-09-20
ZMD
wizyta naukowa - realizacja projektu ITHACA
François Feuillebois
University Paris-Saclay - LIMSI laboratory, France (FR), Campus universitaire Bât 508 Rue John Von Neumann 91405 Orsay cedex
2019-12-01
2019-12-08
ZBiMM
wizyta naukowa
Antoine Sellier
LadHyX, Ecole Polytechnique, France (FR), 91128 Palaiseau Cedex
2019-12-01
2019-12-08
ZBiMM
wizyta naukowa - projekt ITHACA
Lucian Lăzărescu
Technical University of Cluj-Napoca , Romania (RO), St. Memorandumului 28, Cluj-Napoca 400114
2019-11-24
2019-11-27
ZIiNO
realizacja projektu (nr 23) PAN-AR
Abhilash Sankaran
University of Illinois at Chicago, Dpt. of Mechanical and Industrial Engineering, Multiscale Mechanics and Nanotechnology Laboratory, United States of America (US), 842 W. Taylor Street, Chicago, IL 60608
2019-11-24
2019-12-21
SPPiB
wizyta studyjna - projekt ITHACA
Oleksandr Bonchyk
Pidstryhach Institute for Applied Problems of Mechanics and Mathematics NASU, Ukraine (UA), 3-b Naukova St., 79060, Lviv
2019-11-18
2019-11-22
SPPiB
realizacja projektu (nr 50) PAN-NANU
Hryhorii Savytskyy
Pidstryhach Institute for Applied Problems of Mechanics and Mathematics NASU, Ukraine (UA), 3-b Naukova St., 79060, Lviv
2019-11-18
2019-11-22
SPPiB
realizacja projektu (nr 50) PAN-NANU
Ivailo Mladenov
Institute of Biophysics and Biomedical Engineering Bulgarian Academy of Sciences, Bulgaria (BG), Acad. G. Bonchev Str., Block 21, 1113 Sofia
2019-11-14
2019-11-23
ZTOCiN
realizacja projektu PAN-BAN
Richard Moriggl
University of Veterinary Medicine, Vienna, Austria (AT), Veterinaerplatz 1, 1210 Vienna
2019-11-06
2019-11-10
ZBiMM
wizyta naukowa
Janos Logo
Budapest University of Technology and Economics, Hungarian Academy of Sciences, Hungary (HU), 1111 Budapest, Műegyetem rkp. 3
2019-11-03
2019-11-09
ZIiNO
realizacja projektu PAN-WAN
Benedek Andras Logo
Budapest University of Technology and Economics, Hungarian Academy of Sciences, Hungary (HU), 1111 Budapest, Műegyetem rkp. 3
2019-11-03
2019-11-09
ZIiNO
realizacja projektu PAN-WAN
Nikolaos Pnevmatikos
Department of Civil Engineering University of West Attica, Greece (GR), Campus 1 Ag. Spyridonos Str., 12210 Egaleo-Athens
2019-11-02
2019-11-06
ZTI
wygłoszenie referatów - przyjazd w ramach programu ERASMUS+
Alexis Rusinek
University of Lorraine, France (FR), Cité Universitaire, 57000 Metz
2019-10-20
2019-10-22
ZMD
wizyta naukowa - realizacja projektu ITHACA
Karel Tuma
Faculty of Mathematics and Physics, Charles University, Czech Republic (CZ), Ke Karlovu 2027/3 12116 Praha 2
2019-10-20
2019-10-25
ZMM
współpraca naukowa
Volodymyr Grinchenko
Institute of Technical Problems of Magnetism of the National Academy of Sciences of Ukraine, Ukraine (UA), Industrialna st. 19, Kharkiv 61106
2019-10-14
2019-11-12
ZTI
pobyt badawczy
Archiwum
Imię i nazwisko
Instytucja macierzysta
Kraj
Okres pobytu
Jednostka przyjmująca
Uwagi
Oleksandr Sulima
Pukhov Institute for Modelling in Energy Engineering National Academy of Sciences of Ukraine, Ukraine (UA), 15, General Naumov Str. Kiev, 03164
2019-10-01
2019-10-30
ZTOCiN
pobyt badawczy
Oleksii Kostenko
B. Verkin Institute for Low Temperature Physics & Engineering of NAS Ukraine, Ukraine (UA), 47 Nauky Ave., Kharkiv 61103
2019-09-26
2019-10-25
ZTOCiN
pobyt badawczy
Eric Povolansky
The Joint Institute for Power and Nuclear Research – Sosny of the National Academy of Sciences of Belarus, Belarus (BY), 47/22 Prilesye district Lugovaya Sloboda village council Minsk district 223063 Minsk
2019-09-23
2019-09-25
ZMD
współpraca naukowa
Artem Radkevich
The Joint Institute for Power and Nuclear Research – Sosny of the National Academy of Sciences of Belarus, Belarus (BY), 47/22 Prilesye district Lugovaya Sloboda village council Minsk district 223063 Minsk
2019-09-23
2019-09-25
ZMD
współpraca naukowa
Yuliya Kolodkevich
The Joint Institute for Power and Nuclear Research – Sosny of the National Academy of Sciences of Belarus, Belarus (BY), 47/22 Prilesye district Lugovaya Sloboda village council Minsk district 223063 Minsk
2019-09-23
2019-09-25
ZMD
współpraca naukowa
Svyatoslav Sikorin
The Joint Institute for Power and Nuclear Research – Sosny of the National Academy of Sciences of Belarus, Belarus (BY), 47/22 Prilesye district Lugovaya Sloboda village council Minsk district 223063 Minsk
2019-09-23
2019-09-25
ZMD
współpraca naukowa
Massimiliano Lanzi
University of Bologna, Italy (IT), Via Zamboni, 33 - 40126 Bologna
2019-09-15
2019-09-20
ZBiMM
współpraca naukowa - program Canaletto
Elisabetta Salatelli
University of Bologna, Italy (IT), Via Zamboni, 33 - 40126 Bologna
2019-09-15
2019-09-20
ZBiMM
współpraca naukowa - program Canaletto
Ichiro Ario
Department of Civil & Environmental Engineering, Hiroshima University, Japan (JP), 1-4-1 Kagamiyama, Higashi-Hiroshima City Hiroshima
2019-09-14
2019-09-22
ZTI
wizyta naukowa
Tatsuya Yamashita
Department of Civil & Environmental Engineering, Hiroshima University, Japan (JP), 1-4-1 Kagamiyama, Higashi-Hiroshima City Hiroshima
2019-09-14
2019-09-22
ZTI
wizyta naukowa
Rimantas Kačianauskas
Vilnius Gediminas Technical University, Lithuania (LT), 11 Saulėtekio Ave, LT-10223 Vilnius
2019-09-08
2019-09-12
ZIiNO
realizacja projektu PAN-LAN
Arnas Kačianauskas
Vilnius Gediminas Technical University, Lithuania (LT), 11 Saulėtekio Ave, LT-10223 Vilnius
2019-09-08
2019-09-12
ZIiNO
realizacja projektu PAN-LAN
Algirdas Maknickas
Vilnius Gediminas Technical University, Lithuania (LT), J.Basanaviciaus st.28, LT-03224 Vilnius
2019-09-08
2019-09-12
ZIiNO
realizacja projektu PAN-LAN
Darius Vainorius
Vilnius Gediminas Technical University, Lithuania (LT), 11 Sauletekio Ave, LT-10223 Vilnius
2019-09-08
2019-09-12
ZIiNO
realizacja projektu PAN-LAN
Aishwarya Dhar
University of Rome Tor Vergata, Italy (IT), Via Cracovia 50 – 00133 Rome
2019-09-04
2019-09-06
ZBiMM
współpraca naukowa
Horacio Vargas Guzman
Jülich Supercomputing Centre (JSC), Germany (DE), Forschungszentrum Jülich, Wilhelm-Johnen-Strasse 52425 Jülich
2019-09-02
2019-09-30
ZBiMM
współpraca naukowa
Howard A. Stone
Princeton University, United States of America (US), G02 E-Quad, Olden St., Princeton, NJ 08544
2019-08-27
2019-09-30
ZBiMM
Ruslan Pacevic
Kaunas University of Technology, Lithuania (LT), K. Donelaičio g. 73, 44249, Kaunas
2019-08-05
2019-08-09
ZIiNO
współpraca naukowa
Roberto Fiorelli
Sanai Lab St. Joseph's Hospital/Medical Center, United States of America (US), 350 W.Thomas Rd, Phoenix, AZ.85013
2019-07-29
2019-08-07
ZBiMM
współpraca naukowa
Georg-Marten Lanno
University of Tartu, Estonia (EE), Nooruse 1, 50411 Tartu
2019-07-29
2019-08-27
SPPiB
współpraca naukowa - projekt ITHACA
Dorel Banabic
Technical University of Cluj Napoca, Romania (RO), Memorandumului 28, 400040 Cluj Napoca
2019-07-27
2019-08-03
ZIiNO
realizacja projektu PAN-AR
Merve Nur Çiftçi
Gebze Technical University, Turkey (TR), Gebze Teknik Üniversitesi Rektörlüğü 41400 Gebze/KOCAELİ
2019-07-15
2019-09-20
SPPiB
szkolenie
Yuki Chikahiro
Department of Water Environment & Civil Engineering, Sinshu University, Nagano, Japan (JP), 4-17-1 Wakasato, Nagano Prefecture 380-8553
2019-07-12
2019-07-14
ZTI
wizyta naukowa
Yuki Yokotani
Department of Civil & Environmental Engineering, Hiroshima University, Japan (JP), 1-4-1 Kagamiyama, Higashi-Hiroshima City Hiroshima
2019-07-12
2019-07-14
ZTI
wizyta naukowa
Horacio Vargas Guzman
Jülich Supercomputing Centre (JSC), Germany (DE), Forschungszentrum Jülich, Wilhelm-Johnen-Strasse 52425 Jülich
2019-07-11
2019-07-12
ZBiMM
współpraca naukowa
Hideki Kobayashi
University of Cambridge, United Kingdom (GB), Philippa Fawcett Dr, Cambridge CB3 0AS
2019-07-10
2019-07-12
ZBiMM
współpraca naukowa, seminarium
Alexander L. Yarin
University of Illinois at Chicago, United States of America (US), 842 West Taylor Street, MC 251, Chicago, IL 60607
2019-07-06
2019-07-13
SPPiB
Mihail Popescu
Max Planck Institute for Intelligent Systems, Germany (DE), Heisenbergstr. 3, 70569 Stuttgart
2019-06-30
2019-07-02
ZBiMM
współpraca naukowa
Aurimas Girta
Kaunas University of Technology, Lithuania (LT), K. Donelaičio St. 73, 44249 Kaunas
2019-06-30
2019-08-31
ZMD
szkolenie
Roberto Fiorelli
Sanai Lab St. Joseph's Hospital/Medical Center, United States of America (US), 350 W.Thomas Rd, Phoenix, AZ.85013
2019-06-28
2019-07-05
ZBiMM
wizyta naukowa, wygłoszenie seminarium
Karin Kogermann
University of Tartu, Estonia (EE), Nooruse 1, 50411 Tartu
2019-06-27
2019-07-05
SPPiB
wizyta studyjna, wykład - projekt ITHACA
Stephen Ekwaro-Osire
Texas Tech University, United States of America (US), 2703 7th Street, Lubbock, TX 79409-1021
2019-06-20
2019-06-23
ZBiMM
rozwinięcie współpracy naukowej
Jerzy Bławzdziewicz
Texas Tech University, United States of America (US), Box 41021 | Lubbock, TX 79409-1021
2019-06-19
2019-07-11
ZBiMM
współpraca naukowa - projekt ITHACA
Krzysztof Kuczera
University of Kansas, United States of America (US), 1450 Jayhawk Blvd, Lawrence, KS 66045
2019-06-10
2019-06-23
ZBiMM
wizyta naukowa - projekt ITHACA
Sebastien Mercier
Laboratoire d'Etude des Microstructures et de Mécanique des Matériaux, Université de Lorraine-CNRS-ENSAM, France (FR), 7 rue Félix Savart F-57070 Metz
2019-06-09
2019-06-18
ZMM
pobyt badawczy
Gautier Girard
Laboratoire d'Etude des Microstructures et de Mécanique des Matériaux, Université de Lorraine-CNRS-ENSAM, France (FR), 7 rue Félix Savart F-57070 Metz
2019-06-09
2019-06-18
ZMM
pobyt badawczy
Antoine Sellier
École Polytechnique, France (FR), 91128 Palaiseau Cedex
2019-06-02
2019-06-14
ZBiMM
współpraca naukowa - projekt ITHACA
François Feuillebois
Laboratoire d'Informatique pour la Mécanique et les Sciences de l'Ingénieur, France (FR), UPR 3251 CNRS, Orsay
2019-06-02
2019-06-16
ZBiMM
współpraca naukowa
Alexis Rusinek
Lorraine University, France (FR), Cité Universitaire, 57000 Metz
2019-05-17
2019-05-19
ZMD
wizyta naukowa, seminarium - projekt ITHACA
Paul Wood
University of Derby, United Kingdom (GB), Kedleston Rd, Derby DE22 1GB
2019-05-16
2019-05-21
ZMD
wizyta naukowa, seminarium - projekt ITHACA
Urvashi Fowdar Gunputh
University of Derby, United Kingdom (GB), Kedleston Rd, Derby DE22 1GB
2019-05-16
2019-05-21
ZMD
wizyta naukowa - projekt ITHACA
George Voyiadjis
Louisiana State University, United States of America (US), Baton Rouge, Luizjana 70803
2019-05-15
2019-05-19
ZMD
wizyta naukowa, wykład - projekt ITHACA
Francisco Javier Llorca Martinez
IMDEA Materials Institute, Spain (ES), Tecnogetafe, Calle Eric Kandel, 2, 28906 Getafe, Madrid
2019-05-14
2019-05-16
ZMM
współpraca naukowa, wykład
Seongpil An
University of Illinois at Chicago, United States of America (US), 842 W.Taylor Street, Chicago, IL 60608
2019-05-12
2019-06-01
SPPiB
wizyta naukowa - projekt ITHACA
Tomas Dvorak
Institute of Materials and Machine Mechanics, Slovak Academy of Sciences, Slovakia (SK), Dúbravská cesta 9, 845 13 Bratislava
2019-05-06
2019-05-10
ZMD
realizacja projektu PAN-SAN
Stanislav Kudela
Institute of Materials and Machine Mechanics, Slovak Academy of Sciences, Slovakia (SK), Račianska 75, 831 02 Bratislava 3
2019-05-06
2019-05-10
ZTOCiN
realizacja projektu PAN-SAN
Lubomir Orovcik
Institute of Materials and Machine Mechanics, Slovak Academy of Sciences, Slovakia (SK), Dúbravská cesta 9, 845 13 Bratislava
2019-05-06
2019-05-10
ZMD
realizacja projektu PAN-SAN
Luciano De Sio
Sapienza University of Rome, Italy (IT), Piazzale Aldo Moro, 5, 00185 Roma RM
2019-05-05
2019-05-15
ZBiMM
wizyta naukowa - projekt ITHACA
Margaritis Voliotis
University of Exeter, United Kingdom (GB), Stocker Rd, Exeter EX4 4PY
2019-04-09
2019-04-11
ZBiMM
seminarium i konsultacje naukowe
Jerzy Bławzdziewicz
Texas Tech University, United States of America (US), Box 41021 | Lubbock, TX 79409-1021
2019-04-02
2019-04-17
ZBiMM
współpraca naukowa - projekt ITHACA
Olga Doubrovina
Belarusian State University, Belarus (BY), 4, Nezavisimosti avenue, 220030, Minsk
2019-02-27
2019-03-09
ZU
pobyt badawczy, seminarium
Karel Tuma
Charles University, Czech Republic (CZ), Ovocný trh 5, Prague 1, 116 36
2019-02-10
2019-02-14
ZMM
współpraca naukowa
Mihail Popescu
Max Planck Institute for Intelligent Systems, Germany (DE), Heisenbergstr. 3, 70569 Stuttgart
2019-01-20
2019-01-23
ZBiMM
wizyta naukowa
Rachel Rigby
University of Oxford, United Kingdom (GB), John Radcliffe Hospital, Headington, Oxford OX3 9DS
2018-11-21
2018-11-23
ZBiMM
konsultacje naukowe i wygłoszenie seminarium
Ivailo Mladenov
Institute of Biophysics, Bulgarian Academy of Sciences, Bulgaria (BG), Sofia
2018-11-18
2018-11-28
ZTOCiN
realizacja projektu PAN-BAN
Hryhoriy Savytskyy
Pidstryhach Institute for Applied Problems of Mechanics and Mathematics, NASU, Ukraine (UA), 3-b Naukova St., 79601, Lviv
2018-11-12
2018-11-16
SPPiB
realizacja projektu PAN-NANU
Oleksandr Bonchyk
Pidstryhach Institute for Applied Problems of Mechanics and Mathematics, NASU, Ukraine (UA), 3-b Naukova St., 79060, Lviv
2018-11-12
2018-11-16
SPPiB
realizacja projektu PAN-NANU
Vitalii Volpert
Universite Lyon 1, Institut Camille Jordan, France (FR), Bâtiment Braconnier, 43 Boulevard du 11 novembre 1918, 69622 Villeurbanne Cedex
2018-10-15
2018-10-19
ZBiMM
współpraca naukowa
Kostenko Oleksii
B.Verkin Institute for Low Temperature Physics and Engineering of the NASU, Ukraine (UA), 47 Nauky Avenue, Kharkiv 61103
2018-10-10
2018-11-08
ZTOCiN
współpraca naukowa PAN-NANU
Luciano De Sio
Sapienza University of Rome, Italy (IT), Corso della Repubblica 79, 04100 Latina
2018-10-04
2018-10-10
ZBiMM
wizyta studyjna
Alexis Rusinek
Lorraine University, France (FR), 7 rue Felix Savart, BP15082 - 57073 Metz Cedex 03
2018-09-26
2018-09-27
ZMD
współpraca naukowa
Karel Tuma
Charles University, Czech Republic (CZ), Ovocný trh 5, Prague 1, 116 36
2018-08-31
2018-09-06
ZMM
współpraca naukowa i 41st Solid Mechanics Conference
Andras Szekeres
Budapest University of Technology and Economics, Hungary (HU), 1111 Budapest, Műegyetem rkp. 3.
2018-08-27
2018-09-01
ZIiNO
41st Solid Mechanics Conference
Mariana Cristea
"Petru Poni" Institute of Macromolecular Chemistry, Romania (RO), 41A Grigore Ghica Voda Alley, Iasi-700487
2018-08-26
2018-09-02
ZMD
realizacja projektu PAN-AR
Daniela Ionita
"Petru Poni" Institute of Macromolecular Chemistry, Romania (RO), 41A Grigore Ghica Voda Alley, Iasi-700487
2018-08-26
2018-09-02
ZMD
realizacja projektu PAN-AR
Rimantas Kačianauskas
Vilnius Gediminas Technical University, Lithuania (LT), 11 Saulėtekio Ave, LT-10223 Vilnius
2018-08-26
2018-08-30
ZIiNO
realizacja projektu PAN-LAN
Algirdas Maknickas
Vilnius Gediminas Technical University, Lithuania (LT), J.Basanaviciaus st.28, LT-03224 Vilnius
2018-08-26
2018-08-30
ZIiNO
realizacja projektu PAN-LAN
Gediminas Gaidulis
Vilnius Gediminas Technical University, Lithuania (LT), 11 Saulėtekio Ave, LT-2040 Vilnius
2018-08-26
2018-08-30
ZIiNO
realizacja projektu PAN-LAN
Ruslan Pacevic
Vilnius Gediminas Technical University, Lithuania (LT), 11 Saulėtekio Ave, LT-2040 Vilnius
2018-08-26
2018-08-30
ZIiNO
realizacja projektu PAN-LAN
Jerzy Bławzdziewicz
Texas Tech University, United States of America (US), Box 41021 | Lubbock, TX 79409-1021
2018-07-21
2018-08-05
ZBiMM
współpraca naukowa
Abhyudai Singh
University of Delaware, United States of America (US), Newark, Delaware 19716
2018-07-09
2018-07-11
ZBiMM
wizyta naukowa, wygłoszenie seminarium
Olga Doubrovina
Belarusian State University, Belarus (BY), 4, Nezavisimosti avenue, 220030, Minsk
2018-07-05
2018-07-22
ZU
współpraca naukowa
Jan Rehwinkel
University of Oxford, United Kingdom (GB), John Radcliffe Hospital, Headington, Oxford OX3 9DS
2018-07-04
2018-07-05
ZBiMM
wizyta naukowa, wygłoszenie seminarium
Jerzy Bławzdziewicz
Texas Tech University, United States of America (US), Box 41021 | Lubbock, TX 79409-1021
2018-06-29
2018-07-14
ZBiMM
współpraca naukowa
François Feuillebois
Laboratoire d'Informatique pour la Mécanique et les Sciences de l'Ingénieur, France (FR), UPR 3251 CNRS, Orsay
2018-06-07
2018-06-14
ZBiMM
współpraca naukowa
Antoine Sellier
École Polytechnique, France (FR), 91128 Palaiseau Cedex
2018-06-07
2018-06-14
ZBiMM
współpraca naukowa
Asmaa Ahmed Mohamed Ali Arafa
National Research Centre, Egypt (EG), El-Buhoth st, 12311, Dokki, Cairo
2018-06-06
2018-07-05
SPPiB
pobyt badawczy w ramach Umowy o współpracy naukowej PAN-ASRT
Jan Olek
Purdue University, United States of America (US), 610 Purdue Mall, West Lafayette, IN 47907
2018-06-05
2018-06-05
ZMD
konsultacje
Julien Bourgeois
University of Franche-Comté, France (FR), Montbeliard / 1 Rue Claude Goudimel, 25030 Besançon
2018-05-21
2018-05-25
ZMM
wykład, pobyt badawczy
Luciano De Sio
Sapienza University of Rome, Italy (IT), Corso della Repubblica 79, 04100 Latina
2018-05-12
2018-05-15
ZIiNO
wykład, nawiązanie współpracy
Tomas Dvorak
Institute of Materials and Machine Mechanics, Slovak Academy of Sciences, Slovakia (SK), Dubravska cesta 9, 845 13 Bratislava
2018-05-07
2018-05-11
ZMD
realizacja projektu badawczego PAN-SAN
Stanislav Kudela
Institute of Materials and Machine Mechanics, Slovak Academy of Sciences, Slovakia (SK), Račianska 75, 831 02 Bratislava 3
2018-05-07
2018-05-11
ZMD
realizacja projektu badawczego PAN-SAN
Oleksandr Bonchyk
Pidstryhach Institute for Applied Problems of Mechanics and Mathematics, NASU, Ukraine (UA), 3-b Naukova St., 79060, Lviv
2018-04-16
2018-04-20
ZMM
realizacja projektu PAN-NANU
Hryhoriy Savytskyy
Pidstryhach Institute for Applied Problems of Mechanics and Mathematics, NASU, Ukraine (UA), 3-b Naukova St., 79601, Lviv
2018-04-16
2018-04-20
ZMM
realizacja projektu badawczego PAN-NANU
Emiliano Rustighi
University of Southampton, United Kingdom (GB), University Rd, Southampton SO17 1BJ
2018-03-18
2018-06-02
ZTI
wizyta badawcza
Jan Olek
Purdue University, United States of America (US), 610 Purdue Mall, West Lafayette, IN 47907
2018-03-12
2018-03-17
ZMD
warsztaty naukowe, pobyt badawczy
Olga Doubrovina
Belarusian State University, Belarus (BY), 4, Nezavisimosti avenue, 220030, Minsk
2018-01-24
2018-02-02
ZU
pobyt badawczy
Thomas Hochrainer
Institut für Festigkeitslehre TU Graz, Austria (AT), Kopernikusgasse 24/I, 8010 Graz
2017-12-17
2017-12-19
ZMM
wykład, nawiązanie współpracy naukowej
Bence Balogh
Budapest University of Technology and Economics, Hungary (HU), 1111 Budapest, Műegyetem rkp. 3.
2017-12-04
2017-12-10
ZIiNO
realizacja projektu badawczego PAN-WAN
Joern Mosler
TU Dortmund University, Germany (DE), Leonhard-Euler-Str. 5, D-44227 Dortmund
2017-11-12
2017-11-15
ZMM
wykład, współpraca naukowa
Janos Logo
Budapest University of Technology and Economics, Hungarian Academy of Sciences, Hungary (HU), 1111 Budapest, Műegyetem rkp. 3.
2017-11-08
2017-11-12
ZIiNO
realizacja projektu badawczego PAN-WAN
Joze Korelc
University of Ljubljana, Slovenia (SI), Jamova cesta 2, 1001 Ljubljana
2017-10-23
2017-10-31
ZMM
wykład, konsultacje, współpraca naukowa
Tomas Dvorak
Institute of Materials and Machine Mechanics, Slovak Academy of Sciences, Slovakia (SK), Dubravska cesta 9, 845 13 Bratislava
2017-10-02
2017-10-06
ZMD
realizacja projektu badawczego PAN-SAN
Stanislav Kudela
Institute of Materials and Machine Mechanics, Slovak Academy of Sciences, Slovakia (SK), Račianska 75, 831 02 Bratislava 3
2017-10-02
2017-10-06
ZMD
realizacja projektu badawczego PAN-SAN
Stephane Bordas
University of Luxemburg, Luxembourg (LU), Belval Campus-Office MNO04-510 Maison du Nombre, 6 avenue de La Fonte, L-4364 Esch-sur-Alzette
2017-10-01
2017-10-09
ZMM
seminarium, konsultacje naukowe
Ichiro Ario
Hiroshima University, Japan (JP), 1-4-1 Kagamiyama Higashi-Hiroshima
2017-09-14
2017-09-25
ZTI
realizacja projektu PAN-JSPS
Yuki Chikahiro
Hiroshima University, Japan (JP), 1-4-1 Kagamiyama Higashi-Hiroshima
2017-09-10
2017-09-10
ZTI
realizacja projektu PAN-JSPS
Kotaro Adachi
Hiroshima University, Japan (JP), 1-4-1 Kagamiyama Higashi-Hiroshima
2017-09-10
2017-09-20
ZTI
realizacja projektu PAN-JSPS
Yuta Hama
Hiroshima University, Japan (JP), 1-4-1 Kagamiyama Higashi-Hiroshima
2017-09-10
2017-09-25
ZTI
realizacja projektu PAN-JSPS
Rimantas Kačianauskas
Vilnius Gediminas Technical University, Lithuania (LT), 11 Saulėtekio Ave, LT-10223 Vilnius
2017-08-26
2017-08-29
ZIiNO
realizacja projektu PAN-LAN
Algirdas Maknickas
Vilnius Gediminas Technical University, Lithuania (LT), J.Basanaviciaus st.28, LT-03224 Vilnius
2017-08-26
2017-08-29
ZIiNO
realizacja projektu PAN-LAN
Arturas Kilikevicius
Vilnius Gediminas Technical University, Lithuania (LT), 28 Basanaviciaus str., LT-2040 Vilnius
2017-08-26
2017-08-29
ZIiNO
realizacja projektu PAN-LAN
Arnas Kačianauskas
Vilnius Gediminas Technical University, Lithuania (LT), 11 Saulėtekio Ave, LT-10223 Vilnius
2017-08-26
2017-08-29
ZIiNO
realizacja projektu PAN-LAN
Jerzy Bławzdziewicz
Texas Tech University, United States of America (US), Box 41021 | Lubbock, TX 79409-1021
2017-06-23
2017-07-12
ZBiMM
współpraca naukowa
Igor Sevostianov
New Mexico State University, United States of America (US), 1780 E University Ave, Las Cruces, NM 88003
2017-06-08
2017-06-08
ZMM
seminarium
Gennady Mishuris
Aberstwyth University, United Kingdom (GB), Reception Penglais Aberystwyth Ceredigion SY23 3FL
2017-06-08
2017-06-08
ZMM
seminarium
Jerzy Bławzdziewicz
Texas Tech University, United States of America (US), Box 41021 | Lubbock, TX 79409-1021
2017-06-02
2017-06-07
ZBiMM
współpraca naukowa
Oleksandr Bonchyk
Pidstryhach Institute for Applied Problems of Mechanics and Mathematics, NASU, Ukraine (UA), 3-b Naukova St., 79060, Lviv
2017-05-08
2017-05-12
SPPiB
realizacja projektu PAN-NANU
Hryhoriy Savytskyy
Pidstryhach Institute for Applied Problems of Mechanics and Mathematics, NASU, Ukraine (UA), 3-b Naukova St., 79060, Lviv
2017-05-08
2017-05-12
SPPiB
realizacja projektu PAN-NANU
Olga Doubrovina
Belarusian State University, Belarus (BY), 4, Nezavisimosti avenue, 220030, Minsk
2017-04-27
2017-05-06
ZU
współpraca naukowa
Tom Powolny
GROUPE PSA, France (FR), 4 rue du Chateau, 14610 Cambes en Plaine
2017-04-10
2017-06-10
ZTI
pobyt badawczy
Teddy Tite
Laboratoire Hubert Curien, France (FR), Bâtiment F, 18 Rue Professeur Benoît Lauras, 42000 Saint-Étienne
2016-12-11
2016-12-13
ZTOCiN
wygłoszenie seminarium
Oleksandr Bonchyk
Pidstryhach Institute for Applied Problems of Mechanics and Mathematics, NASU, Ukraine (UA), 3-b Naukova St., 79060, Lviv
2016-11-28
2016-12-02
ZMM
realizacja projektu Badawczego PAN-NANU
Hryhoriy Savytskyy
Pidstryhach Institute for Applied Problems of Mechanics and Mathematics, NASU, Ukraine (UA), 3-b Naukova St., 79601, Lviv
2016-11-28
2016-12-02
ZMM
realizacja projektu badawczego PAN-NANU
Paulius Griskevicius
Kaunas University of Technology, Lithuania (LT), K. Donelaičio g. 73, 44249, Kaunas
2016-11-02
2016-12-31
ZTI
Research Internship Program
Bence Balogh
Budapest University of Technology and Economics, Hungary (HU), 1111 Budapest, Műegyetem rkp. 3.
2016-10-28
2016-11-05
ZIiNO
realizacja projektu badawczego PAN-WAN
Janos Logo
Budapest University of Technology and Economics, Hungarian Academy of Sciences, Hungary (HU), 1111 Budapest, Műegyetem rkp. 3.
2016-10-19
2016-10-23
ZIiNO
realizacja projektu badawczego PAN-WAN
Leslie Banks-Sills
Tel Aviv University, Israel (IL), Ramat Aviv 69970
2016-10-16
2016-10-20
ZMD
seminarium, konsultacje
Fabrizio Fiori
Università Politecnica delle Marche, Italy (IT), via Brecce Bianche, 60131 Ancona
2016-10-10
2016-10-13
ZMM
konsulatcje naukowe
Stanislav Kudela
Institute of Materials and Machine Mechanics, Slovak Academy of Sciences, Slovakia (SK), Račianska 75, 831 02 Bratislava 3
2016-10-03
2016-10-07
ZMD
realizacja projektu badawczego PAN-SAN
Tomas Dvorak
Institute of Materials and Machine Mechanics, Slovak Academy of Sciences, Slovakia (SK), Dubravska cesta 9, 845 13 Bratislava
2016-10-03
2016-10-07
ZMD
realizacja projektu badawczego PAN-SAN
Kotaro Adachi
Hiroshima University, Japan (JP), 1-4-1 Kagamiyama Higashi-Hiroshima
2016-09-05
2016-09-11
ZTI
realizacja projektu PAN-JSPS
Masatoshi Nakazawa
Hiroshima University, Japan (JP), 1-4-1 Kagamiyama Higashi-Hiroshima
2016-09-03
2016-09-09
ZTI
realizacja projektu PAN-JSPS
Rimantas Kačianauskas
Vilnius Gediminas Technical University, Lithuania (LT), 11 Saulėtekio Ave, LT-10223 Vilnius
2016-08-29
2016-09-02
ZIiNO
realizacja projektu PAN-LAN
Algirdas Maknickas
Vilnius Gediminas Technical University, Lithuania (LT), J.Basanaviciaus st.28, LT-03224 Vilnius
2016-08-29
2016-09-01
ZIiNO
realizacja projektu PAN-LAN
Robertas Balevicius
Vilnius Gediminas Technical University, Lithuania (LT), 11 Sauletekio Ave, LT-10223 Vilnius
2016-08-29
2016-09-01
ZIiNO
realizacja projektu PAN-LAN
Eugenius Stupak
Vilnius Gediminas Technical University, Lithuania (LT), 11 Sauletekio Ave, LT-10223 Vilnius
2016-08-29
2016-09-01
ZIiNO
realizacja projektu PAN-LAN
Gediminas Gaidulis
Vilnius Gediminas Technical University, Lithuania (LT), 11 Saulėtekio Ave, LT-2040 Vilnius
2016-08-29
2016-09-01
ZIiNO
realizacja projektu PAN-LAN
Kohei Takeda
Aichi Institute of Technology, Japan (JP), 1247 Yachigusa, Yakusa-cho, Toyota-city, 470-0392
2016-08-28
2016-09-03
ZMD
konsultacje
Ryosuke Matsui
Aichi Institute of Technology, Japan (JP), 1247 Yachigusa, Yakusa-cho, Toyota-city, 470-0392
2016-08-28
2016-09-03
ZMD
konsultacje
Tadashige Ikeda
Nagoya University, Japan (JP), Aichi 464-8603
2016-08-28
2016-09-03
ZMD
konsultacje
Ichiro Ario
Hiroshima University, Japan (JP), 1-4-1 Kagamiyama Higashi-Hiroshima
2016-08-27
2016-09-11
ZTI
realizacja projektu PAN-JSPS
Yuki Chikahiro
Hiroshima University, Japan (JP), 1-4-1 Kagamiyama Higashi-Hiroshima
2016-08-27
2016-09-11
ZTI
realizacja projektu PAN-JSPS
Hisaaki Tobushi
Aichi Institute of Technology, Japan (JP), 1247 Yachigusa, Yakusa-cho, Toyota-city, 470-0392
2016-08-27
2016-09-03
ZMD
konsultacje
Jerzy Bławzdziewicz
Texas Tech University, United States of America (US), Box 41021 | Lubbock, TX 79409-1021
2016-07-10
2016-07-20
ZBiMM
współpraca naukowa
Alessandro Pasquale Fantilli
Politecnico di Torino, Italy (IT), Corso Duca degli Abruzzi, 24 - 10129 Torino
2016-07-06
2016-07-09
ZMD
konsultacje naukowe
Marcin Ostoja-Starzewski
University of Illinois, United States of America (US), 1206 W. Green Street M/C 244, Urbana, IL 61801
2016-06-30
2016-07-03
ZMM
wygłoszenie referatu, konsultacje naukowe
Olga Doubrovina
Belarusian State University, Belarus (BY), 4, Nezavisimosti avenue, 220030, Minsk
2016-06-29
2016-07-16
ZU
pobyt badawczy
Oleksandr Bonchyk
Pidstryhach Institute for Applied Problems of Mechanics and Mathematics, NASU, Ukraine (UA), 3-b Naukova St., 79060, Lviv
2016-05-16
2016-05-20
ZTOCiN
realizacja projektu PAN-NANU
Hryhoriy Savytskyy
Pidstryhach Institute for Applied Problems of Mechanics and Mathematics, NASU, Ukraine (UA), 3-b Naukova St., 79060, Lviv
2016-05-16
2016-05-20
ZTOCiN
realizacja projektu PAN-NANU
Tilmann Glimm
Western Washington University, United States of America (US), 516 High Street, Bellingham, WA 98225
2016-05-15
2016-05-20
ZBiMM
wizyta naukowa
Barend Ubbo Felderhof
RWTH Aachen, Germany (DE), Templergraben 55, 52056 Aachen
2016-05-08
2016-05-13
ZBiMM
współpraca naukowa, seminarium
François Feuillebois
Laboratoire d'Informatique pour la Mécanique et les Sciences de l'Ingénieur, France (FR), UPR 3251 CNRS, Orsay
2016-04-30
2016-05-17
ZBiMM
pobyt badawczy
Antoine Sellier
École Polytechnique, France (FR), 91128 Palaiseau Cedex
2016-04-30
2016-05-07
ZBiMM
współpraca naukowa
Aleksander Zubelewicz
University of New Mexico, United States of America (US), Albuquerque, NM 87131
2016-04-04
2016-04-22
ZMM
wizyta naukowa, konsultacje
Stefan Gruenert
Austria BIOLUTION, Austria (AT), Helmut-Qualtinger-Gasse 2/2/3, 1030 Wiedeń
2016-03-01
2016-03-03
ZBiMM
przeprowadzenie warsztatów nt. pisania grantów
Renzo L. Ricca
University of Milano-Bicocca, Italy (IT), Via Cozzi, 55, 20125 Milano
2016-02-15
2016-02-19
ZBiMM
pobyt badawczy, nawiązanie współpracy
Olga Doubrovina
Belarusian State University, Belarus (BY), 4, Nezavisimosti avenue, 220030, Minsk
2016-01-11
2016-01-28
ZU
pobyt badawczy
Michael W.Y. Chan
National Chung Cheng University, Taiwan, Provice of China (TW), 168, University Rd., Min-Hsiung, Chia-Yi 621 Taiwan, R.O.C
2015-11-13
2015-11-20
ZBiMM
pobyt badawczy
Je-Chiang Tsai
National Chung Cheng University, Taiwan, Provice of China (TW), 168, University Rd., Min-Hsiung, Chia-Yi 621 Taiwan, R.O.C
2015-11-09
2015-11-20
ZBiMM
realizacja projektu badawczego PAN - MOST, Taiwan
Chien-Hong Cho
National Chung Cheng University, Taiwan, Provice of China (TW), 168, University Rd., Min-Hsiung, Chia-Yi 621 Taiwan, R.O.C
2015-11-09
2015-11-20
ZBiMM
realizacja projektu badawczego PAN - MOST, Taiwan
Janos Logo
Budapest University of Technology and Economics, Hungarian Academy of Sciences, Hungary (HU), 1111 Budapest, Műegyetem rkp. 3.
2015-11-04
2015-11-08
ZIiNO
realizacja projektu badawczego PAN-WAN
Abdennasser Chekroun
Université Claude Bernard Lyon 1, France (FR), 43 Boulevard du 11 Novembre 1918, 69622 Villeurbanne cedex
2015-10-26
2015-10-31
ZBiMM
realizacja projektu w ramach Programu POLONIUM
Hryhoriy Savytskyy
Pidstryhach Institute for Applied Problems of Mechanics and Mathematics, NASU, Ukraine (UA), 3-b Naukova St., 79060, Lviv
2015-10-12
2015-10-16
ZMM
realizacja projektu badawczego PAN-NANU
Oleksandr Bonchyk
Pidstryhach Institute for Applied Problems of Mechanics and Mathematics, NASU, Ukraine (UA), 3-b Naukova St., 79060, Lviv
2015-10-12
2015-10-16
ZMM
realizacja projektu badawczego PAN-NANU
Stanislav Kúdela
Institute of Materials and Machine Mechanics, Slovak Academy of Sciences, Slovakia (SK), Račianska 75, 831 02 Bratislava 3
2015-10-05
2015-10-08
ZMD
realizacja projektu badawczego PAN-SAN
Oleksandr Bonchyk
Pidstryhach Institute for Applied Problems of Mechanics and Mathematics, NASU, Ukraine (UA), 3-b Naukova St., 79060, Lviv
2015-10-04
2015-10-09
ZTOCiN
realizacja projektu badawczego PAN-NANU
Hryhoriy Savytskyy
Pidstryhach Institute for Applied Problems of Mechanics and Mathematics, NASU, Ukraine (UA), 3-b Naukova St., 79060, Lviv
2015-10-04
2015-10-09
ZTOCiN
realizacja projektu badawczego PAN-NANU
Ion N. Mihailescu
National Institute for Lasers, Plasma and Radiation Physics, Romania (RO), PO Box MG-36, RO-77125, Magurele, Ilfov
2015-10-04
2015-10-08
ZMD
realizacja projektu PAN-AR
Carmen-Georgeta Ristoscu
National Institute for Lasers, Plasma and Radiation Physics, Romania (RO), PO Box MG-36, RO-77125, Magurele, Ilfov
2015-10-04
2015-10-08
ZMD
realizacja projektu badawczego PAN-AR
Corina Gabriela Dorcioman
National Institute for Lasers, Plasma and Radiation Physics, Romania (RO), PO Box MG-36, RO-77125, Magurele, Ilfov
2015-10-04
2015-10-08
ZMD
realizacja projektu badawczego PAN-AR
Kyle S. Brinkman
Clemson University, United States of America (US), Clemson, SC 29634
2015-09-25
2015-09-25
ZMM
seminarium
Adrian Ioan Niculescu
Institute of Solid Mechanics of the Romanian Academy, Romania (RO), C-tin Mille str. Nr. 15, sector 1 Bucharest, 10141
2015-09-17
2015-09-23
ZTI
seminarium, konsultacje
Hisaaki Tobushi
Aichi Institute of Technology, Japan (JP), 1247 Yachigusa, Yakusa-cho, Toyota-city, 470-0392
2015-09-14
2015-09-16
ZMD
konsultacje naukowe
Aleksander Zubelewicz
University of New Mexico, United States of America (US), Albuquerque, NM 87131
2015-09-08
2015-09-22
ZMM
konsultacje
Rimantas Kačianauskas
Vilnius Gediminas Technical University, Lithuania (LT), 11 Saulėtekio Ave, LT-10223 Vilnius
2015-09-07
2015-09-11
ZIiNO
realizacja projektu badawczego PAN-LAN
Darius Zabulionis
Vilnius Gediminas Technical University, Lithuania (LT), 11 Sauletekio Ave, LT-10223 Vilnius
2015-09-07
2015-09-11
ZIiNO
realizacja projektu badawczego PAN-LAN
Urte Radvilaite
Vilnius Gediminas Technical University, Lithuania (LT), 11 Sauletekio Ave, LT-10223 Vilnius
2015-09-07
2015-09-09
ZIiNO
realizacja projektu badawczego PAN-LAN
Justinas Rackauskas
Vilnius Gediminas Technical University, Lithuania (LT), 11 Sauletekio Ave, LT-10223 Vilnius
2015-09-07
2015-09-09
ZIiNO
realizacja projektu badawczego PAN-LAN
Oleg Ardatov
Vilnius Gediminas Technical University, Lithuania (LT), 11 Sauletekio Ave, LT-10223 Vilnius
2015-09-07
2015-09-09
ZIiNO
realizacja projektu badawczego PAN-LAN
Raşit ZENGİN
Firat University, Turkey (TR), 23169 Elazig
2015-08-10
2015-08-15
ZMD
wygłoszenie seminarium, konsultacje, nawiązanie współpracy
Joseph T.C. Liu
Brown University, United States of America (US), Providence, Rhode Island 02912
2015-07-01
2016-01-21
ZBiMM
pobyt naukowy
Olga Doubrovina
Belarusian State University, Belarus (BY), 4, Nezavisimosti avenue, 220030, Minsk
2015-06-29
2015-07-15
ZU
pobyt badawczy
Jacobo Levy Abitbo
Université Claude Bernard Lyon 1, France (FR), 43 boulevard du 11 Novembre 1918, 69622 Villeurbanne cedex
2015-06-15
2015-06-19
ZBiMM
realizacja projektu w ramach Programu POLONIUM
Mark Kachanov
Tufts University, United States of America (US), Medford MA 02155
2015-06-07
2015-06-09
ZMM
wykład i konsultacje naukowe
Mohammad Saeid Enayati
Isfahan University of Technology, Islamic Republic of Iran (IR), Isfahan, Khomeyni Shahr, Daneshgah e Sanati HW
2015-06-01
2015-11-30
ZTOCiN
staż badawczy
Jerzy Bławzdziewicz
Texas Tech University, United States of America (US), Box 41021 | Lubbock, TX 79409-1021
2015-05-31
2015-06-19
ZBiMM
pobyt badawczy
Antoine Sellier
École Polytechnique, France (FR), 91128 Palaiseau Cedex
2015-05-14
2015-05-22
ZBiMM
pobyt badawczy
François Feuillebois
Laboratoire d'Informatique pour la Mécanique et les Sciences de l'Ingénieur, France (FR), UPR 3251 CNRS, Orsay
2015-05-12
2015-05-20
ZBiMM
pobyt badawczy
Zakaria Chadli
POLYTECH Clermont-Ferrand, France (FR), Campus Universitaire des Cezeaux -24 avenue des Landais, B.P 20206 - 63174 - AUBIERE CEDEX
2015-05-05
2015-08-05
ZBiMM
student w ramach Programu ERASMUS
Giorgi Baghaturia
Georgian Technical University , Georgia (GE), 77, Kostava Str., 0175, Administrative Building, Tbilisi
2015-04-13
2015-04-27
ZBiMM
pobyt badawczy
Hetnarski Ryszard
Redaktor Naczelny czasopisma Journal of Thermal Stresses, United States of America (US), St. Raphael, Apt. No. 1209, 7117 Pelican Bay Blvd., Naples, Fl 34108
2015-04-07
2015-04-10
ZMM
wykład i konsultacje
Fyodor Kondrashov
Catalan Institute for Research and Advanced Studies, Spain (ES), Passeig Lluís Companys, 23, 08010 Barcelona
2015-02-20
2015-02-24
ZBiMM
wygłoszenie referatu
Carsten Marr
Helmholtz Zentrum München, Deutsches Forschungszentrum für Gesundheit und Umwelt (GmbH), Institute of Computational Biology, Germany (DE), Ingolstädter Landstr. 1, 85764 Neuherberg
2015-01-19
2015-01-20
ZBiMM
wygłoszenie referatu
Olga Doubrovina
Belarusian State University, Belarus (BY), 4, Nezavisimosti avenue, 220030, Minsk
2015-01-11
2015-01-27
ZU
współpraca naukowa
Chaouqi Misbah
Université Joseph Fourier Grenoble I and CNRS Laboratoire de Spectrométrie Physique , France (FR), B.P. 87, 38402 Saint-Martin d'Hères
2014-12-08
2014-12-11
ZBiMM
współpraca naukowa
Alexander Farutin
Université Grenoble I/CNRS, France (FR), BP 53, 38041 GRENOBLE CEDEX 9
2014-12-08
2014-12-13
ZBiMM
współpraca naukowa
Christian Lexcellent
Université de Franche-Comté, France (FR), 15B Avenue des Montboucons, 25030 Besançon cedex
2014-11-30
2014-12-02
ZMM
wygłoszenie referatu
Janos Logo
Budapest University of Technology and Economics, Hungarian Academy of Sciences, Hungary (HU), 1111 Budapest, Műegyetem rkp. 3.
2014-11-19
2014-11-22
ZIiNO
pobyt badawczy
Bence Balogh
Budapest University of Technology and Economics, Hungary (HU), 1111 Budapest, Műegyetem rkp. 3.
2014-11-19
2014-11-25
ZIiNO
pobyt badawczy
Ion Mihailescu
National Institute for Lasers, Plasma and Radiation Physics, Romania (RO), PO Box MG-54, RO-77125, Magurele, Ilfov
2014-11-18
2014-11-22
ZMD
pobyt badawczy
Irina Negut
National Institute for Lasers, Plasma and Radiation Physics, Romania (RO), PO Box MG-36, RO-77125, Magurele, Ilfov
2014-11-18
2014-11-22
ZMD
pobyt badawczy
Mihai-Adrian Sopronyi
National Institute for Lasers, Plasma and Radiation Physics, Romania (RO), PO Box MG-36, RO-77125, Magurele, Ilfov
2014-11-18
2014-11-22
ZMD
pobyt badawczy
Mostafa Adimy
Université Claude Bernard Lyon 1, France (FR), 43 boulevard du 11 Novembre 1918, 69622 Villeurbanne cedex
2014-11-17
2014-11-21
ZBiMM
pobyt badawczy
Abdennasser Chekroun
Université Claude Bernard Lyon 1, France (FR), 43 Boulevard du 11 Novembre 1918, 69622 Villeurbanne cedex
2014-11-17
2014-11-21
ZBiMM
pobyt badawczy (program POLONIUM)
Rimantas Kačianauskas
Vilnius Gediminas Technical University, Lithuania (LT), 11 Saulėtekio Ave, LT-10223 Vilnius
2014-11-16
2014-11-22
ZIiNO
pobyt badawczy
Darius Zabulionis
Vilnius Gediminas Technical University, Lithuania (LT), 11 Sauletekio Ave, LT-10223 Vilnius
2014-11-16
2014-11-22
ZIiNO
pobyt badawczy
Algirdas Maknickas
Vilnius Gediminas Technical University, Lithuania (LT), J.Basanaviciaus st.28, LT-03224 Vilnius
2014-11-16
2014-11-22
ZIiNO
pobyt badawczy
Ivailo Mladenov
Institute of Biophysics, Bulgarian Academy of Sciences, Bulgaria (BG), Sofia
2014-11-16
2014-11-30
ZTOCiN
pobyt badawczy
Stanislav Kudela
Institute of Materials and Machine Mechanics, Slovak Academy of Sciences, Slovakia (SK), Račianska 75, 831 02 Bratislava 3
2014-10-28
2014-10-31
ZMD
pobyt badawczy
Viktor Azharonok
Institute of Physics, National Academy of Sciences of Belarus, Belarus (BY), 68, Nezavisimosti prosp., Minsk, 220072
2014-10-18
2014-10-22
ZMD
pobyt badawczy
Irina Filatova
Institute of Physics, National Academy of Sciences of Belarus, Belarus (BY), 68, Nezavisimosti prosp., Minsk, 220072
2014-10-18
2014-10-22
ZMD
pobyt badawczy
Carsten Wiuf
University of Copenhagen, Denmark (DK), Nørregade 10DK-1165 Copenhagen
2014-10-12
2014-10-14
ZBiMM
pobyt badawczy
Je-Chiang Tsai
National Chung Cheng University, Taiwan, Provice of China (TW), 168, University Rd., Min-Hsiung, Chia-Yi 621 Taiwan, R.O.C
2014-10-11
2014-10-25
ZBiMM
pobyt badawczy
Chien-Hong Cho
National Chung Cheng University, Taiwan, Provice of China (TW), 168, University Rd., Min-Hsiung, Chia-Yi 621 Taiwan, R.O.C
2014-10-11
2014-10-25
ZBiMM
pobyt badawczy
Mariano Rodriguez-Bautista
Universidad Autónoma Metropolitana-Iztapalapa, Mexico (MX), Av. San Rafael Atlixco No. 186, Col. Vicentina, Delegación Iztapalapa, C. P. 09340 México, D.F.
2014-10-10
2014-11-29
ZIiNO
pobyt badawczy
Yuki Chikahiro
Hiroshima University, Japan (JP), 1-4-1 Kagamiyama Higashi-Hiroshima
2014-10-01
2015-03-31
ZTI
pobyt naukowy
Hryhoriy Savytskyy
Pidstryhach Institute for Applied Problems of Mechanics and Mathematics, NASU, Ukraine (UA), 3-b Naukova St., 79601, Lviv
2014-09-22
2014-09-26
ZTOCiN
pobyt badawczy
Oleksandr Bonchyk
Pidstryhach Institute for Applied Problems of Mechanics and Mathematics, NASU, Ukraine (UA), 3-b Naukova St., 79060, Lviv
2014-09-22
2014-09-26
ZTOCiN
pobyt badawczy
Hisaaki Tobushi
Aichi Institute of Technology, Japan (JP), 1247 Yachigusa, Yakusa-cho, Toyota-city, 470-0392
2014-09-05
2014-09-11
ZMD
pobyt badawczy
Ryosuke Matsui
Aichi Institute of Technology, Japan (JP), 1247 Yachigusa, Yakusa-cho, Toyota-city, 470-0392
2014-09-05
2014-09-11
ZMD
pobyt badawczy
Kohei Takeda
Aichi Institute of Technology, Japan (JP), 1247 Yachigusa, Yakusa-cho, Toyota-city, 470-0392
2014-09-05
2014-09-11
ZMD
pobyt badawczy
Narinder Kumar Gupta
SERC, Indian Institute of Science, India (IN), Bangalore - 560012
2014-08-31
2014-09-14
ZMD
konsultacje, wykład
Jerzy Bławzdziewicz
Texas Tech University, United States of America (US), Box 41021 | Lubbock, TX 79409-1021
2014-07-06
2014-08-04
ZBiMM
pobyt badawczy
Olga Doubrovina
Belarusian State University, Belarus (BY), 4, Nezavisimosti avenue, 220030, Minsk
2014-07-03
2014-07-20
ZU
współpraca naukowa
Marek Niewczas
McMaster University, Canada (CA), 1280 Main Street West, Hamilton, Ontario
2014-06-11
2014-06-12
ZMD
seminarium
Yeshayahou Levy
Faculty of Aerospace Engineering, Technion, Israel Institute of Technology, Israel (IL), Haifa, 32000
2014-04-29
2014-05-01
ZBiMM
konsultacje w sprawie wspólnego projektu UE
Yuki Chikahiro
Hiroshima University, Japan (JP), 1-4-1 Kagamiyama Higashi-Hiroshima
2014-03-24
2014-07-31
ZTI
pobyt badawczy
Gerhard Naegele
Institute of Complex Systems (ICS-3), Soft Matter Division, Research Centre, , Germany (DE), Forschungszentrum Jülich, 52425 Jülich
2014-03-10
2014-03-14
ZBiMM
badania naukowe
Mavi Sanchez-Vives
Catalan Institution for Research and Advanced Studies (ICREA) Institut d'Investigacions Biomèdiques August Pi i Sunyer(IDIBAPS), Spain (ES), Rosselló 149-153, 08036 Barcelona
2014-01-20
2014-01-23
ZBiMM
współpraca naukowa
Olga Doubrovina
Belarusian State University, Belarus (BY), 4, Nezavisimosti avenue, 220030, Minsk
2014-01-09
2014-02-02
ZU
współpraca naukowa
Antoine Sellier
École Polytechnique, France (FR), 91128 Palaiseau Cedex
2013-11-30
2013-12-09
ZBiMM
współpraca naukowa
Sergey Lychev
Ishlinsky Institute for Problems in Mechanics RAS, Russian Federation (RU), prosp. Vernadskogo 101, block 1, Moscow, 119526
2013-11-27
2013-12-06
ZMM
realizacja projektu PAN-RAN
Pavel Bychkov
Institute for Problems in Mechanics RAS, Russian Federation (RU), prosp. Vernadskogo 101, block 1, Moscow, 119526
2013-11-27
2013-12-06
ZMM
realizacja projektu badawczego PAN-RAN
Iusup Saifutdinov
RSU-1 Ltd., Russian Federation (RU), N-Vokzalnaya 271-133, Samara 443029
2013-11-27
2013-12-06
ZMD
realizacja projektu badawczego PAN-RAN
Karl Rupp
Technische Universität Wien, Austria (AT), Gußhausstraße 27-29 / E360, A-1040 Wien
2013-11-25
2013-11-29
ZIiNO
seminarium, pobyt badawczy
Rimantas Kačianauskas
Vilnius Gediminas Technical University, Lithuania (LT), 11 Saulėtekio Ave, LT-10223 Vilnius
2013-10-21
2013-10-25
ZIiNO
realizacja projektu badawczego PAN-LAN
Darius Zabulionis
Vilnius Gediminas Technical University, Lithuania (LT), 11 Sauletekio Ave, LT-10223 Vilnius
2013-10-21
2013-10-25
ZIiNO
realizacja projektu badawczego PAN-LAN
Saulius Pilkavičius
Vilnius Gediminas Technical University, Lithuania (LT), 11 Sauletekio Ave, LT-10223 Vilnius
2013-10-21
2013-10-25
ZIiNO
realizacja projektu badawczego PAN-LAN
Ryszard Pyrz
Aalborg University, Denmark (DK), Fibigerstræde 16, 9220 Aalborg Øst
2013-10-16
2013-10-31
D
seminarium, wizyta naukowa na zaproszenie Dyrekcji
Stanislav Kudela
Institute of Materials and Machine Mechanics, Slovak Academy of Sciences, Slovakia (SK), Račianska 75, 831 02 Bratislava 3
2013-10-15
2013-10-18
ZMD
realizacja projektu badawczego PAN-SAN
François Lusseyran
Laboratoire d'Informatique pour la Mécanique et les Sciences de l'Ingénieur, France (FR), B.P. 133, 91403 ORSAY CEDEX
2013-10-14
2013-10-16
ZBiMM
wizyta naukowa
Oleksandr Bonchyk
Pidstryhach Institute for Applied Problems of Mechanics and Mathematics, NASU, Ukraine (UA), 3-b Naukova St., 79060, Lviv
2013-10-07
2013-10-11
ZMM
realizacja projektu badawczego PAN-NANU
Hryhoriy Savytskyy
Pidstryhach Institute for Applied Problems of Mechanics and Mathematics, NASU, Ukraine (UA), 3-b Naukova St., 79601, Lviv
2013-10-07
2013-10-11
ZMM
realizacja projektu badawczego PAN-NANU
Joseph Zarka
École Polytechnique, France (FR), 91128 Palaiseau Cedex
2013-10-06
2013-10-09
ZMM
wygłoszenie 2 seminariów, kontynuacja współpracy
Raj Das
University of Auckland, New Zealand (NZ), Private Bag 92019, Auckland 1142
2013-09-30
2013-09-30
ZMD
nawiązanie współpracy naukowo-badawczej
Oleksandr Bonchyk
Pidstryhach Institute for Applied Problems of Mechanics and Mathematics, NASU, Ukraine (UA), 3-b Naukova St., 79060, Lviv
2013-09-23
2013-09-27
ZTOCiN
realizacja projektu badawczego PAN-NANU
Hryhoriy Savytskyy
Pidstryhach Institute for Applied Problems of Mechanics and Mathematics, NASU, Ukraine (UA), 3-b Naukova St., 79601, Lviv
2013-09-23
2013-09-27
ZTOCiN
realizacja projektu badawczego PAN-NANU
Vladimir Dunic
UNIVERSITY OF KRAGUJEVAC, Serbia (XS), Jovana Cvijica bb, 34000 Kragujevac
2013-08-01
2013-09-13
ZMD
stypendysta KMM-VIN, seminarium
Olga Doubrovina
Belarusian State University, Belarus (BY), 4, Nezavisimosti avenue, 220030, Minsk
2013-07-07
2013-07-23
ZU
pobyt naukowy
Jerzy Bławzdziewicz
Texas Tech University, United States of America (US), Box 41021 | Lubbock, TX 79409-1021
2013-07-03
2013-07-30
ZBiMM
współpraca naukowa
Janos Logo
Budapest University of Technology and Economics, Hungarian Academy of Sciences, Hungary (HU), 1111 Budapest, Műegyetem rkp. 3.
2013-06-24
2013-06-28
ZIiNO
realizacja projektu PAN-WAN
Gyorgy Rozvany
Budapest University of Technology and Economics, Hungarian Academy of Sciences, Hungary (HU), 1111 Budapest, Műegyetem rkp. 3.
2013-06-24
2013-06-28
ZIiNO
realizacja projektu badawczego PAN-WAN
Je-Chiang Tsai
National Chung Cheng University, Taiwan, Provice of China (TW), 168, University Rd., Min-Hsiung, Chia-Yi 621 Taiwan, R.O.C
2013-06-22
2013-06-28
ZBiMM
wizyta naukowa
Vytautas Rimsa
Vilnius Gediminas Technical University, Lithuania (LT), 11 Sauletekio Ave, LT-10223 Vilnius
2013-06-01
2013-09-01
ZIiNO
pobyt szkoleniowo-badawczy (program Erasmus)
Antoine Sellier
École Polytechnique, France (FR), 91128 Palaiseau Cedex
2013-05-18
2013-05-28
ZBiMM
współpraca naukowa
Margaritis Voliotis
University of Bristol, United Kingdom (GB), Senate House, Tyndall Avenue, Bristol BS8 1TH
2013-04-18
2013-04-21
ZBiMM
realizacja projektu badawczego
Olga Doubrovina
Belarusian State University, Belarus (BY), 4, Nezavisimosti avenue, 220030, Minsk
2013-03-17
2013-03-30
ZU
pobyt badawczy
Aleksandra Walczak
École Normale Supérieure Paris, France (FR), 45, rue d'Ulm / 29 rue d'Ulm, F-75230 Paris cedex 05
2013-03-05
2013-03-08
ZBiMM
Okan Su
Bulent Ecevit University, Turkey (TR), Rektorluk Binasi 6. Kat, 67100 Incivez, Zonguldak
2013-01-02
2013-01-10
ZIiNO
pobyt szkoleniowo-naukowy (program Erasmus)
Ion Mihailescu
National Institute for Lasers, Plasma and Radiation Physics, Romania (RO), PO Box MG-54, RO-77125, Magurele, Ilfov
2012-12-05
2012-12-09
ZMD
realizacja projektu PAN-AR
Carmen-Georgeta Ristoscu
National Institute for Lasers, Plasma and Radiation Physics, Romania (RO), PO Box MG-54, RO-77125, Magurele, Ilfov
2012-12-05
2012-12-09
ZMD
realizacja projektu PAN-AR
Felix-Nicolae Sima
National Institute for Lasers, Plasma and Radiation Physics, Romania (RO), PO Box MG-54, RO-77125, Magurele, Ilfov
2012-12-05
2012-12-09
ZMD
realizacja projektu PAN-AR
Oleksandr Bonchyk
Pidstryhach Institute for Applied Problems of Mechanics and Mathematics, NASU, Ukraine (UA), 3-b Naukova St., 79060, Lviv
2012-11-19
2012-11-23
ZTOCiN
Hryhoriy Savytskyy
Pidstryhach Institute for Applied Problems of Mechanics and Mathematics, NASU, Ukraine (UA), 3-b Naukova St., 79601, Lviv
2012-11-19
2012-11-23
ZTOCiN
realizacja projektu badawczego PAN-NANU
Eva Mrázková
Brno University of Technology, Czech Republic (CZ), Technická 2896/2, 616 69 Brno
2012-11-19
2012-11-23
ZIiNO
seminarium, współpraca
Billie F. Spencer, Jr.
University of Illinois, United States of America (US), Urbana-Champaign
2012-10-26
2012-10-29
ZTI
Przyjazd na zaproszenie Dyrekcji
Stanislav Kudela
Institute of Materials and Machine Mechanics, Slovak Academy of Sciences, Slovakia (SK), Račianska 75, 831 02 Bratislava 3
2012-10-02
2012-10-05
ZMD
realizacja projektu badawczego PAN-SAN (nr 22)
Shigeru Kuramoto
TOYOTA CENTRAL Research & Development Labs., INC., Japan (JP), 41-1, Yokomichi, Nagakute, Aichi 480-1192
2012-10-01
2012-10-01
ZMD
seminarium, współpraca
Tadahiko Futura
TOYOTA CENTRAL Research & Development Labs., INC., Japan (JP), 41-1, Yokomichi, Nagakute, Aichi 480-1192
2012-10-01
2012-10-01
ZMD
seminarium, współpraca
Vladimir Kukudzhanov
Ishlinsky Institute for Problems in Mechanics RAS, Russian Federation (RU), Moscow, 119526 Vernadskogo av., 101-1
2012-09-17
2012-09-26
ZMM
realizacja projektu PAN-RAN
Alexander Levitin
Ishlinsky Institute for Problems in Mechanics RAS, Russian Federation (RU), Moscow
2012-09-17
2012-09-26
ZMM
realizacja projektu badawczego PAN-RAN
Dmitry Parshin
Ishlinsky Institute for Problems in Mechanics RAS, Russian Federation (RU), Moscow, 119526 Vernadskogo av., 101-1
2012-09-17
2012-09-26
ZMM
realizacja projektu badawczego PAN-RAN
Sergey Lychev
Ishlinsky Institute for Problems in Mechanics RAS, Russian Federation (RU), Moscow, 119526 Vernadskogo av., 101-1
2012-09-17
2012-09-26
ZMM
realizacja projektu PAN-RAN
Elaine Crooks
Swansea University, United Kingdom (GB), Swansea
2012-09-15
2012-09-22
ZBiMM
pobyt badawczy
Rimantas Kačianauskas
Vilnius Gediminas Technical University, Lithuania (LT), 11 Saulėtekio Ave, LT-10223 Vilnius
2012-08-26
2012-08-31
ZIiNO
realizacja projektu PAN-LAN (nr 5)
Robertas Balevicius
Vilnius Gediminas Technical University, Lithuania (LT), 11 Sauletekio Ave, LT-10223 Vilnius
2012-08-26
2012-08-31
ZIiNO
realizacja projektu PAN-LAN (nr 5)
Saulius Pilkavičius
Vilnius Gediminas Technical University, Lithuania (LT), 11 Sauletekio Ave, LT-10223 Vilnius
2012-08-26
2012-08-31
ZIiNO
realizacja projektu PAN-LAN (nr 5)
Hisaaki Tobushi
Aichi Institute of Technology, Japan (JP), 1247 Yachigusa, Yakusa-cho, Toyota-city, 470-0392
2012-08-24
2012-09-04
ZMD
udział w konferencji SOLMECH, seminarium, współpraca
Andre Maues Brabo Pereira
Pontificia Universisade Catolica do Rio de Janeiro, Brazil (BR), Rio de Janeiro
2012-08-17
2012-09-18
ZIiNO
realizacja projektu NUMSIM
Victor Wriedt Sapucaia
Pontificia Universisade Catolica do Rio de Janeiro, Brazil (BR), Rio de Janeiro
2012-08-17
2012-09-18
ZIiNO
realizacja projektu NUMSIM
Guilherme Coelho Gomes Barros
Pontificia Universisade Catolica do Rio de Janeiro, Brazil (BR), Rio de Janeiro
2012-08-17
2012-09-18
ZIiNO
realizacja projektu NUMSIM
Siegfried Schmauder
Universitat Stuttgart, Germany (DE), Pfaffenwaldring 32, D-70569 Stuttgart
2012-08-09
2012-08-10
ZIiNO
seminarium/współpraca
Haim Diamant
Tel Aviv University, Israel (IL), P.O. Box 39040, Tel Aviv 6997801
2012-07-21
2012-07-28
ZBiMM
badania naukowe
Eyal Zussman
Faculty of Mechanical Engineering, Technion - Israel Institute of Technology, Israel (IL), Technion City, Haifa 32000
2012-07-05
2012-07-07
ZTOCiN
udział w seminarium CePT
Erhan Piskin
Hacettepe University, Turkey (TR), Ankara 06800
2012-07-05
2012-07-05
ZTOCiN
udzial w seminarium CePT
Jerzy Bławzdziewicz
Texas Tech University, United States of America (US), Box 41021 | Lubbock, TX 79409-1021
2012-07-04
2012-08-03
ZBiMM
kontynuacja współpracy naukowej
Janos Logo
Budapest University of Technology and Economics, Hungarian Academy of Sciences, Hungary (HU), 1111 Budapest, Műegyetem rkp. 3.
2012-05-21
2012-05-26
ZIiNO
realizacja projektu PAN-WAN
Marta Krasowska
University of South Australia, Australia (AU), Adelaide
2012-05-15
2012-05-17
ZBiMM
Seminarium
David Beattie
University of South Australia, Australia (AU), Adelaide
2012-05-15
2012-05-17
ZBiMM
Seminarium
Hryhoriy Savytskyy
Pidstryhach Institute for Applied Problems of Mechanics and Mathematics, NASU, Ukraine (UA), 3-b Naukova St., 79601, Lviv
2012-05-14
2012-05-18
ZMM
pobyt badawczy
Oleksandr Bonchyk
Pidstryhach Institute for Applied Problems of Mechanics and Mathematics, NASU, Ukraine (UA), 3-b Naukova St., 79060, Lviv
2012-05-14
2012-05-18
ZMM
pobyt badawczy
Maria Laura Di Lorenzo
Istituto di Chimica e Tecnologia dei Polimeri del Consiglio Nazionale delle Ricerche, Italy (IT), Via Campi Flegrei, 34; 80078 Pozzuoli (NA)
2012-05-14
2012-05-18
ZTOCiN
pobyt badawczy
François Feuillebois
Laboratoire d'Informatique pour la Mécanique et les Sciences de l'Ingénieur, France (FR), UPR 3251 CNRS, Orsay
2012-05-07
2012-05-13
ZBiMM
badania naukowe
Antoine Sellier
École Polytechnique, France (FR), 91128 Palaiseau Cedex
2012-05-06
2012-05-15
ZBiMM
badania naukowe, realizacja projektu badawczego finansowanego przez Rząd Francuski
Yasuaki Ichikawa
Okayama University, Japan (JP), Okayama
2012-03-23
2012-03-30
ZMM
wykład, konsultacje
Robertas Balevicius
Vilnius Gediminas Technical University, Lithuania (LT), 11 Sauletekio Ave, LT-10223 Vilnius
2012-03-05
2012-03-08
ZMM
konsultacje naukowe
Olga Doubrovina
Belarusian State University, Belarus (BY), 4, Nezavisimosti avenue, 220030, Minsk
2012-01-18
2012-01-27
ZU
pobyt badawczy
Iwan F. Kożewnikow
Dorodnicyn Computing Center RAS, Russian Federation (RU), Moscow
2011-12-05
2011-12-11
ZTOCiN
Realizacja projektu badawczego PAN-RAN
Chaouqi Misbah
Laboratoire Interdisciplinaire de Physique CNRS and Univ.J.Fourier, France (FR), Grenoble I, 38402 Saint Martin d'Heres
2011-11-27
2011-12-02
ZBiMM
Realizacja projektu badawczego PICS
Antoine Sellier
École Polytechnique, France (FR), 91128 Palaiseau Cedex
2011-11-13
2011-11-19
ZBiMM
Realizacja projektu badawczego PICS
François Feuillebois
Laboratoire d'Informatique pour la Mécanique et les Sciences de l'Ingénieur, France (FR), UPR 3251 CNRS, Orsay
2011-11-10
2011-11-18
ZBiMM
Realizacja projektu badawczego PICS
Joze Korelc
University of Ljubljana, Slovenia (SI), Jamova cesta 2, 1001 Ljubljana
2011-11-03
2011-11-10
ZMM
Realizacja projektu badawczego
Stanislav Kudela
Institute of Materials and Machine Mechanics, Slovak Academy of Sciences, Slovakia (SK), Račianska 75, 831 02 Bratislava 3
2011-10-27
2011-10-30
ZMD
Realizacja projektu badawczego PAN-SAN
Ana Yanakieva
Bulgarian Academy of Sciences, Bulgaria (BG),
2011-10-20
2011-12-20
ZMM
Projekt badawczy
Ion Mihailescu
National Institute for Lasers, Plasma and Radiation Physics, Romania (RO), PO Box MG-54, RO-77125, Magurele, Ilfov
2011-10-13
2011-10-16
ZMD
Realizacja projektu badawczego PAN-AR
Carmen-Georgeta Ristoscu
National Institute for Lasers, Plasma and Radiation Physics, Romania (RO), PO Box MG-54, RO-77125, Magurele, Ilfov
2011-10-13
2011-10-16
ZMD
Realizacja projektu badawczego PAN-AR
Alexander Zubelewicz
Los Alamos National Laboratory, United States of America (US),
2011-10-10
2011-10-22
ZIiNO
Seminarium
George Dimitrakopulos
Aristotle University of Thessaloniki, Greece (GR),
2011-09-23
2011-09-23
ZIiNO
Wygłoszenie seminarium
Abdelhak Ambari
ENSAM ParisTech, France (FR),
2011-08-21
2011-08-25
ZBiMM
Realizacja projektu badawczego PICS, udział w konferencji
Eric Climent
Institut de Mecanique des Fluides de Toulouse, France (FR),
2011-08-21
2011-08-26
ZBiMM
Realizacja projektu badawczego PICS, udział w konferencji
Nicolas Lecoq
UMR 6634 CNRS, University of Rouen, France (FR),
2011-08-21
2011-08-25
ZBiMM
Realizacja projektu badawczego PICS, udział w konferencji
Chaouqi Misbah
UMR 5588 CNRS and Univ. J.Fourier, France (FR), Grenoble
2011-08-21
2011-08-24
ZBiMM
Realizacja projektu badawczego PICS, udział w konferencji
Anne Mongruel
PMMH and Universite Pierre et Marie Curie, France (FR), Paris UMR 7636
2011-08-21
2011-08-25
ZBiMM
Realizacja projektu badawczego PICS, udział w konferencji
Franck Pigeonneau
Surface du Verre et Interface, France (FR), UMR 125 CNRS/ Saint-Gobain
2011-08-21
2011-08-25
ZBiMM
Realizacja projektu badawczego PICS, udział w konferencji
Antoine Sellier
École Polytechnique, France (FR), 91128 Palaiseau Cedex
2011-08-21
2011-08-31
ZBiMM
Realizacja projektu badawczego PICS, udział w konferencji
François Feuillebois
Laboratoire d'Informatique pour la Mécanique et les Sciences de l'Ingénieur, France (FR), UPR 3251 CNRS, Orsay
2011-08-16
2011-08-28
ZBiMM
Realizacja projektu badawczego PICS, udział w konferencji
Astra Turdukozhayeva
Chemical and metallurgical Institute, Kazakhstan (KZ), Karaganda
2011-08-06
2011-08-14
ZBiMM
Pobyt badawczy
Jae Ung Cho
Kongju National University, Republic of Korea (KR),
2011-08-03
2011-08-03
ZMD
Wykład
Olga Doubrovina
Politechnika w Mińsku, Belarus (BY), 4, Nezavisimosti avenue, 220030, Minsk
2011-07-07
2011-07-22
ZU
Realizacja projektu badawczego (MNiSW)
Je-Chiang Tsai
National Chung Cheng University, Taiwan, Provice of China (TW), 168, University Rd., Min-Hsiung, Chia-Yi 621 Taiwan, R.O.C
2011-07-03
2011-07-03
ZBiMM
Pobyt badawczy
Stephan Genieys
Uniwersytet w Tuluzie, France (FR),
2011-07-01
2011-07-09
ZBiMM
Realizacja projektu badawczego (program POLONIUM)
Vitaly Volpert
Université Claude Bernard Lyon 1, France (FR), Lyon 1
2011-07-01
2011-07-09
ZBiMM
Realizacja projektu badawczego (program POLONIUM)
Elaine Crooks
Swansea University, United Kingdom (GB), Swansea
2011-07-01
2011-07-09
ZBiMM
Realizacja projektu badawczego (MNiSW)
Aleksandr Bonczyk
Pidstryhach Institute for Applied Problems of Mechanics and Mathematics, NASU, Ukraine (UA), 3-b Naukova St., 79060, Lviv
2011-06-27
2011-07-01
ZMM
Pobyt badawczy
Grigorij Savytsky
Inst. for Applied Problems of Mechanics and Mathematics, NASU, Ukraine (UA),
2011-06-27
2011-07-01
ZMM
Pobyt badawczy
James Faeder
Pittsburgh University, United States of America (US),
2011-06-27
2011-06-30
ZBiMM
Wygloszenie referatów, udział w konferencji
Je-Chiang Tsai
National Chung Cheng University, Taiwan, Provice of China (TW), 168, University Rd., Min-Hsiung, Chia-Yi 621 Taiwan, R.O.C
2011-06-26
2011-06-27
ZBiMM
Pobyt badawczy
Alexander Yarin
University of Illinois, United States of America (US), Chicago
2011-05-09
2011-05-13
ZTOCiN
Wykłady seminaryjne
Liudas Tumonis
Vilnius Gediminas Technical University, Lithuania (LT), Wilno
2011-05-08
2011-06-03
ZIiNO
Pobyt badawczy, wykład
Gyorgy Rozvany
Budapest University of Technology and Economics, Hungarian Academy of Sciences, Hungary (HU), 1111 Budapest, Műegyetem rkp. 3.
2011-05-08
2011-05-13
ZIiNO
Realizacja projektu badawczego PAN-WAN
Janos Logo
Budapest University of Technology and Economics, Hungarian Academy of Sciences, Hungary (HU), 1111 Budapest, Műegyetem rkp. 3.
2011-05-08
2011-05-13
ZIiNO
Realizacja projektu badawczego PAN-WAN
Rimantas Kačianauskas
Vilnius Gediminas Technical University, Lithuania (LT), 11 Saulėtekio Ave, LT-10223 Vilnius
2011-05-08
2011-05-12
ZIiNO
Realizacja projektu badawczego PAN-LAN
Darius Markauskas
Vilnius Gediminas Technical University, Lithuania (LT), J.Basanaviciaus st.28, LT-03224 Vilnius
2011-05-08
2011-05-12
ZIiNO
Realizacja projektu badawczego PAN-LAN
Darius Zabulionis
Vilnius Gediminas Technical University, Lithuania (LT), Wilno
2011-05-08
2011-05-12
ZIiNO
Realizacja projektu badawczego PAN-LAN
Giuseppino Fortunato
EMPA, Swiss Federal Laboratories for Materials Testing and Research, Switzerland (CH), St. Gallen
2011-04-26
2011-04-27
ZTOCiN
Realizacja projektu badawczego Sciex-NMSch, seminarium
Janice Dulieu-Barton
University of Southampton, United Kingdom (GB),
2011-04-18
2011-04-20
ZMM
Seminarium i konsultacje
Ole Thybo Thomsen
Aalborg University, Denmark (DK),
2011-04-18
2011-04-20
ZMM
Seminarium i konsultacje
Maria Laura Di Lorenzo
Istituto di Chimica e Tecnologia dei Polimeri del Consiglio Nazionale delle Ricerche, Italy (IT), Via Campi Flegrei, 34; 80078 Pozzuoli (NA)
2011-04-17
2011-04-22
ZTOCiN
Realizacja projektu badawczego PAN-CNR
Robertas Balevicius
Vilnius Gediminas Technical University, Lithuania (LT), 11 Sauletekio Ave, LT-10223 Vilnius
2011-04-12
2011-05-13
ZMM
Staż badawczy
Olga Doubrovina
Politechnika w Mińsku, Belarus (BY), 4, Nezavisimosti avenue, 220030, Minsk
2011-04-10
2011-04-17
ZU
Realizacja projektu badawczego (MNiSW)
Sonia Mogilevskaya
University of Minnesota, United States of America (US),
2011-04-04
2011-04-06
ZMM
Wygłoszenie referatu na seminarium, konsultacje
Aleksandr Bonczyk
Pidstryhach Institute for Applied Problems of Mechanics and Mathematics, NASU, Ukraine (UA), 3-b Naukova St., 79060, Lviv
2011-03-28
2011-04-01
ZTOCiN
Realizacja projektu badawczego, PAN-NANU
Grigorij Savytsky
Inst. for Applied Problems of Mechanics and Mathematics, NASU, Ukraine (UA),
2011-03-28
2011-04-01
ZTOCiN
Realizacja projektu badawczego, PAN-NANU
Gerhard Naegele
Institute of Complex Systems (ICS-3), Soft Matter Division, Research Centre, Germany (DE), Juelich
2011-03-14
2011-03-19
ZBiMM
Pobyt badawczy
Olga Doubrovina
Politechnika w Mińsku, Belarus (BY), 4, Nezavisimosti avenue, 220030, Minsk
2011-01-16
2011-01-29
ZU
Realizacja projektu badawczego (MNiSW)
Stephan Genieys
Université Claude Bernard Lyon 1, France (FR), Lyon 1
2010-12-16
2010-12-23
ZBiMM
Realizacja projektu badawczego (program POLONIUM)
Ivailo Mladenov
Institute of Biophysics, Bulgarian Academy of Sciences, Bulgaria (BG), Sofia
2010-11-21
2010-11-27
ZTOCiN
Realizacja projektu badawczego PAN-BAN
Janos Logo
Budapest University of Technology and Economics, Hungarian Academy of Sciences, Hungary (HU), 1111 Budapest, Műegyetem rkp. 3.
2010-11-17
2010-11-20
ZIiNO
Realizacja projektu badawczego PAN-WAN
Stanislav Kudela
Institute of Materials and Machine Mechanics, Slovak Academy of Sciences, Slovakia (SK), Račianska 75, 831 02 Bratislava 3
2010-10-12
2010-10-14
ZAF
Realizacja projektu badawczego PAN-SAN
Joze Korelc
University of Ljubljana, Slovenia (SI), Jamova cesta 2, 1001 Ljubljana
2010-10-11
2010-10-18
ZMM
Realizacja projektu badawczego
Antoine Sellier
École Polytechnique, France (FR), 91128 Palaiseau Cedex
2010-10-11
2010-10-23
ZBiMM
Realizacja projektu badawczego PICS, PAN-CNRS
Adrian Niculescu
Institute of Solid Mechanics Romanian Academy, Romania (RO), Bucharest
2010-09-19
2010-09-23
ZTI
Pobyt badawczy, seminarium
Eduardo Cesari
Universitat de les Illes Balears, Spain (ES), Palma de Mallorca
2010-09-15
2010-09-15
ZMM
Seminarium
Dusan Hemzal
Masaryk University, Czech Republic (CZ), Brno
2010-09-14
2010-09-14
ZU
Konsultacje
Alexander Levitin
Ishlinsky Institute for Problems in Mechanics RAS, Russian Federation (RU), Moscow
2010-09-09
2010-09-14
ZMM
Realizacja projektu badawczego PAN-RAN, udzial w konferencji
Kirill Kazakov
Institute for Problems in Mechanics RAS, Russian Federation (RU), Moscow
2010-09-05
2010-09-14
ZMM
Realizacja projektu badawczego PAN-RAN, udzial w konferencji
Dmitry Parshin
Institute for Problems in Mechanics RAS, Russian Federation (RU), Moscow
2010-09-05
2010-09-14
ZMM
Realizacja projektu badawczego PAN-RAN, udzial w konferencji
Sergey Lychev
Ishlinsky Institute for Problems in Mechanics RAS, Russian Federation (RU), Moscow
2010-09-05
2010-09-14
ZMM
Realizacja projektu badawczego PAN-RAN, udzial w konferencji
Hisaaki Tobushi
Aichi Institute of Technology, Japan (JP), 1247 Yachigusa, Yakusa-cho, Toyota-city, 470-0392
2010-09-03
2010-09-19
ZMM
Pobyt badawczy, udział w konferencji
François Feuillebois
Laboratoire d'Informatique pour la Mécanique et les Sciences de l'Ingénieur, France (FR), UPR 3251 CNRS, Orsay
2010-08-24
2010-09-13
ZBiMM
Realizacja projektu badawczego PICS, PAN-CNRS
Anne Mongruel
UMR CNRS, France (FR), 7636 ESPCI, Paris
2010-08-24
2010-08-30
ZBiMM
Realizacja projektu badawczego PICS, PAN-CNRS
Stephan Genieys
Université Claude Bernard Lyon 1, France (FR), Lyon 1
2010-07-17
2010-07-25
ZBiMM
Realizacja projektu badawczego (program POLONIUM)
Hideaki Itoh
Nagoya University, Japan (JP),
2010-07-15
2010-07-15
ZTOCiN
Seminarium
Marco Heinen
Soft Matter Group, Forschungszentrum, Germany (DE), Juelich
2010-06-29
2010-07-02
ZBiMM
Pobyt badawczy
Gustavo Coelho Abade
Dep. de Engenharia Mecanica, Faculdade de Tecnologia, Univ. de Brasilia, Brazil (BR),
2010-06-12
2010-07-04
ZBiMM
Pobyt badawczy, seminarium
Christian Gomez Sanchez
University of Mondragon, Spain (ES),
2010-06-07
2010-06-18
ZBiMM
Pobyt badawczy
Peggy Cebe
Tufts University, United States of America (US),
2010-06-04
2010-06-04
ZTOCiN
Seminarium
Jordanka Ivanova
Institut of Mechanics, Bulgaria (BG), Sofia
2010-05-17
2010-05-23
ZU
Realizacja projektu badawczego PAN-BAN, seminarium
Gerhard Naegele
Soft Matter Group, Forschungszentrum, Germany (DE), Juelich
2010-05-06
2010-05-08
ZBiMM
Pobyt badawczy
Franz D. Fischer
Montanuniversität Leoben, Austria (AT),
2010-05-04
2010-05-05
ZMM
Referat
Aleksandr Bonczyk
Pidstryhach Institute for Applied Problems of Mechanics and Mathematics, NASU, Ukraine (UA), 3-b Naukova St., 79060, Lviv
2010-04-19
2010-04-23
ZTOCiN
Realizacja projektu badawczego PAN-NANU
Grigori Savytsky
Inst. for Applied Problems of Mechanics and Mathematics, NASU, Ukraine (UA),
2010-04-19
2010-04-23
ZTOCiN
Realizacja projektu badawczego PAN-NANU
Victor Gargallo Tuzon
Instituto de Tecnologia Ceramica, Spain (ES), Castellon
2010-04-19
2010-09-30
ZMM
Staż badawczy w ramach programu Leonardo da Vinci i projektu KomCerMet (POIG 1.3)
Dieter Hoffman
Max-Planck Institut fuer Wissenschaftsgeschichte, Germany (DE), Berlin
2010-04-09
2010-04-11
ZTI
Referat
Yasuaki Ichikawa
Okayama University, Japan (JP), Okayama
2010-03-14
2010-03-29
ZMM
Wykład, konsultacje
Aleksandr Bonczyk
Pidstryhach Institute for Applied Problems of Mechanics and Mathematics, NASU, Ukraine (UA), 3-b Naukova St., 79060, Lviv
2010-02-22
2010-03-08
ZTOCiN
Pobyt badawczy
Grigorij Savytsky
Inst. for Applied Problems of Mechanics and Mathematics, NASU, Ukraine (UA),
2010-02-22
2010-03-08
ZTOCiN
Pobyt badawczy
Klaus Hackl
Uniwersytet Bochum, Germany (DE),
2010-02-21
2010-02-24
ZMM
Wykład, konsultacje
Milos Drdacky
Inst. of Theoretical and Applied Mechanics, Czech Academy of Sciences, Czech Republic (CZ),
2009-11-30
2009-12-04
ZTI
Realizacja projektu badawczego PAN-ANRCz
Zuzana Slizkova
Inst. of Theoretical and Applied Mechanics, Czech Academy of Sciences, Czech Republic (CZ),
2009-11-30
2009-12-04
ZTI
Realizacja projektu badawczego PAN-ANRCz
Stanislaw Kudela
Institute of Materials and Machine Mechanics, Slovak Academy of Sciences, Slovakia (SK), Račianska 75, 831 02 Bratislava 3
2009-11-24
2009-11-26
ZAF
Realizacja projektu badawczego PAN-SAN
Antoine Sellier
École Polytechnique, France (FR), 91128 Palaiseau Cedex
2009-11-22
2009-11-27
ZBiMM
Realizacja projektu badawczego PICS, PAN-CNRS
Joze Korelc
University of Ljubljana, Slovenia (SI), Jamova cesta 2, 1001 Ljubljana
2009-11-19
2009-11-29
ZMM
Realizacja projektu badawczego
Hassan Aref
Virginia Tech, United States of America (US), Blacksburg
2009-10-25
2009-10-28
ZBiMM
Seminarium 26.10.2009
François Feuillebois
Laboratoire d'Informatique pour la Mécanique et les Sciences de l'Ingénieur, France (FR), UPR 3251 CNRS, Orsay
2009-09-09
2009-09-22
ZBiMM
Realizacja projektu badawczego PICS, PAN-CNRS
Konferencje
ZESTAWIENIE NAJWAŻNIEJSZYCH KONFERENCJI
ORGANIZOWANYCH LUB WSPÓŁORGANIZOWANYCH PRZEZ IPPT PAN:
2022 ROK
2021 ROK
2020 ROK (planowane konferencje zostały odwołane z powodu pandemii COVID19)
2019 ROK
ARCHIWUM:
Instytut realizuje współpracę zagraniczną z ośrodkami z całego świata. Nasi obecni partnerzy zagraniczni pochodzą głównie z takich krajów jak: Australia, Austria, Białorusia, Bułgaria, Czechy, Chiny, Egipt, Estonia, Francja, Grecja, Hiszpania, Holandia, Indie, Iran, Izrael, Japonia, Kanada, Kolumbia, Korea, Litwa, Luksemburg, Maroko, Niemcy, Norwegia, Nowa Zelandia, Rumunia, Rosja, Słowacja, Słowenia, Szwajcaria, Tajwan, Turcja, Ukraina, USA, Węgry, Wielka Brytania, Włochy.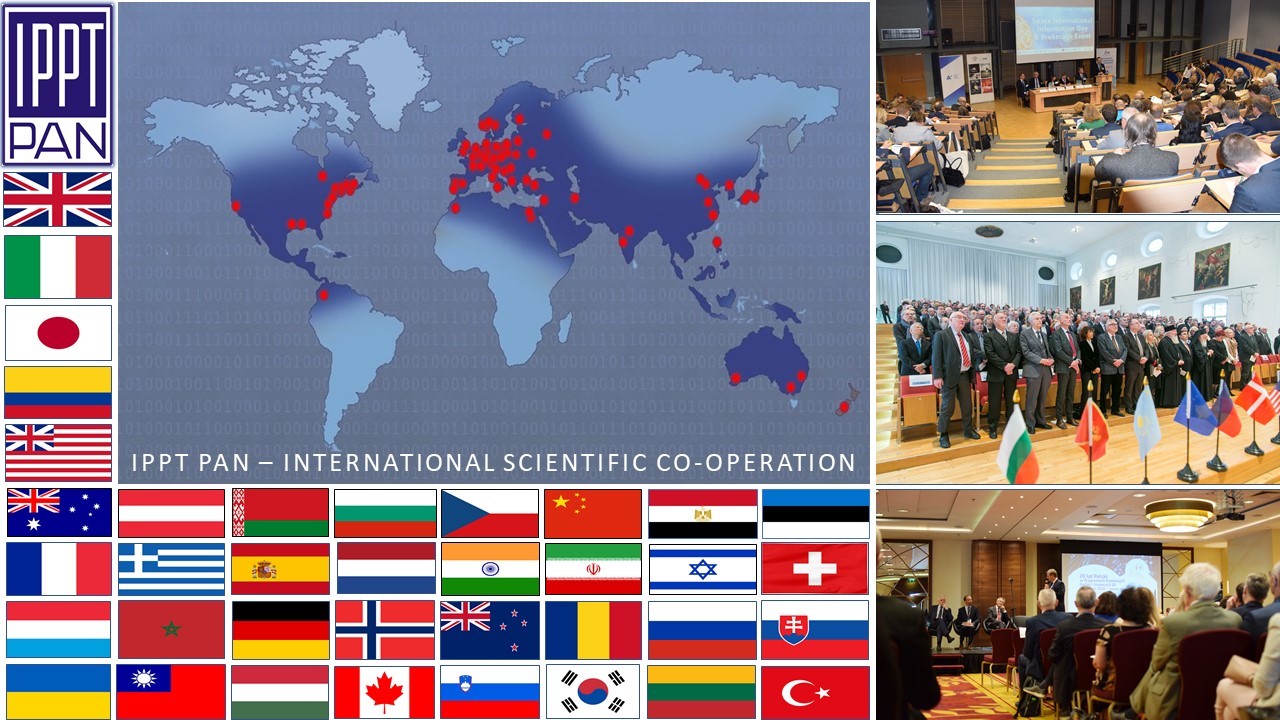 Jednym z przejawów prowadzonej przez IPPT PAN współpracy zagranicznej jest inicjowanie międzynarodowych konsorcjów naukowych oraz prowadzenie międzynarodowych grantów. Instytut ma w tym zakresie ogromne doświadczenie. Dzięki takim projektom możliwe jest tworzenie międzynarodowych zespołów badawczych, które wspólnie pracują nad jednym tematem. Przede wszystkim jednak możliwe jest równoległe prowadzenie badań naukowych w wielu różnych krajach, co pozwala na weryfikację uzyskiwanych przez IPPT PAN wyników badań.
Udział w międzynarodowych grantach to również wymiana doświadczenia, w szczególności najlepiej sprawdzających się metod badawczych, które prowadzą tym samym do unowocześnienia i wypracowania najnowszych standardów w kontekście następnych przedsięwzięć.
W ostatnich latach działalność została ukierunkowana na zagadnienia intensywnie rozwijane w czołowych ośrodkach na świecie, a zwłaszcza w takich obszarach jak:
zaawansowane problemy współczesnej mechaniki i inżynierii materiałowej,
nowe materiały wielofunkcyjne, materiały wieloskładnikowe, materiały z pamięcią kształtu,
nanomateriały (m. in. inżynieria tkankowa) i nanoprzepływy,
projektowanie nowych materiałów z zastosowaniem algorytmów ewolucyjnych (m.in. materiałów grafeno–podobnych),
zastosowanie technologii inteligentnych w naukach inżynierskich,
biologia systemów, bioinformatyka, neuroinformatyka,
diagnostyka ultradźwiękowa w medycynie.
Międzynarodowe Sieci Doskonałości IPPT PAN oraz European Virtual Institute on Knowledge-based Multifunctional Materials (KMM-VIN AISBL)
IPPT PAN posiada ogromne doświadczenie w zakresie inicjowania, tworzenia i koordynowania międzynarodowych Sieci Doskonałości. Przykładem jest uruchomienie i prowadzenie takich sieci jak: Centrum Doskonałości Laserowego Przetwarzania i Zaawansowanych Badań Materiałów "LAPROMAT", Centrum Doskonałości AMAS oraz Sieci Doskonałości KMM-NoE, których działalność do dziś przynosi owoce. Jednym z nich jest utworzenie European Virtual Institute on Knowledge-based Multifunctional Materials (KMM-VIN AISBL). Organizacja powstała w 2007 roku pod auspicjami Komisji Europejskiej jako międzynarodowe stowarzyszenie non-profit (AISBL) działające na podstawie prawa belgijskiego. Ma siedzibę w Brukseli i oddział w IPPT PAN, przy ulicy Pawińskiego 5B w Warszawie. KMM-VIN to samowystarczalna sieć uniwersytetów, instytutów badawczo-rozwojowych, przedsiębiorstw przemysłowych i osób prywatnych z całej Europy, która powstała, aby promować i ułatwiać wspólne badania prowadzone przez jej członków, poświęcone zaawansowanym materiałom strukturalnym i wielofunkcyjnym. Obecnie składa się z 60 członków głównych i stowarzyszonych z 13 krajów Europy.
Upowszechnianie wyników, konferencje, wystawy o zasięgu międzynarodowym
Internacjonalizacja prac prowadzonych w IPPT PAN objawia się w publikowaniu w językach obcych i dzięki tej praktyce, z rezultatami prowadzonych badań w IPPT PAN może zapoznać się bardzo szerokie audytorium. Nasi pracownicy wybierają przede wszystkim prestiżowe czasopisma, na których łamach publikują wybitni badacze z całego świata.
Innym wymiarem prowadzonej przez IPPT PAN współpracy zagranicznej są konferencje i sympozja naukowe o charakterze międzynarodowym. Dodatkowy udział w wystawach oraz prowadzona wymiana naukowa pomaga w wzbogacaniu warsztatu badawczego Instytutu o podejścia wywodzące się z odmiennych kontekstów technologicznych czy też kulturowych.

Zaangażowanie pracowników IPPT PAN w rozwój ogólnoeuropejskiej twórczości naukowej
Pracownicy IPPT PAN biorą bardzo aktywny udział w działalności międzynarodowych organizacji, których celem jest popieranie ogólnoeuropejskiej twórczości naukowej. Przykładem takiej organizacji jest: Europejska Akademia Nauk i Sztuk Pięknych w Salzburgu (European Academy of Sciences and Arts – EASA). Jej członkami są najwybitniejsi naukowcy i artyści z całej Europy (około 2000), wśród których jest 31 laureatów Nagrody Nobla. Członkiem EASA jest m.in. Prof. Tadeusz Burczyński oraz Prof. Michał Kleiber z IPPT PAN, który w 2015 roku został wiceprezesem EASA. Organizacja stawia sobie za cel wspieranie ogólnoeuropejskiej twórczości naukowej i artystycznej. Europejska Akademia Nauk i Sztuk Pięknych zrzesza przedstawicieli nauk technicznych, medycznych, przyrodniczych, humanistycznych a także artystycznych, społecznych, religijnych i nauk związanych z zarządzaniem. Regularnie angażuje się w projekty i organizuje wydarzenia dotyczące każdego z tych obszarów badań.